Bay Area Weather: How to Stay Cool and Safe in the Next California Heat Wave
Failed to save article
Please try again
This level of heat can be particularly dangerous for people who work outdoors, or who don't have adequate cooling in their homes. For Bay Area residents, many of whom are not adjusted to living with high heat, even temperatures in the high 80s can be potentially hazardous.
Those most vulnerable are older adults, infants and children — who don't sweat as efficiently as younger adults. Other vulnerable populations include those with underlying conditions, such as heart and lung issues, asthma, obesity and diabetes. (And yes, pets are vulnerable too.) If the nights also remain unusually warm during a heat wave, people don't cool down as readily during sleep. So heat continues to build up in their bodies day after day as temperatures rise.
Jump straight to:
Why everyone is at risk from extreme weather and climate change
Your body isn't prepared for sudden heat spikes. It's possible to get used to heat — but not overnight.
"It takes almost two weeks for your body to acclimate to the heat," said Dr. Naveena Bobba, who directs public health emergency preparedness and response for the San Francisco Department of Public Health.
You don't need triple-digit temperatures for heat to be a threat in the Bay Area.
Even 85 degrees can be dangerous; in San Francisco, health officials say they start keeping an eye out when temperatures get that high. People who live in cooler climates can get heat-sick at lower temperatures, partly because they can't adjust quickly. And when nighttime temperatures rise, it deprives people of the ability to cool down overnight — before temperatures heat up their bodies again the next day.
Where you live can make you more vulnerable to extreme heat.
When the Bay Area had a major heat wave in 2017, 79% of people killed by heat began to get sick at home. In Contra Costa and in Santa Clara counties, homes that had their temperature and humidity measured over a period of time became hotter inside than out, and held onto heat longer. At night, houses might be 15–20 degrees warmer inside than it is outside.
That's a problem for people who can't afford or don't have air-conditioning, says the Public Health Institute's Linda Rudolph. "When the nighttime temperatures don't go down, which is what's increasingly happening with climate change, it's harder for them to get that kind of physiological rest period," Rudolph said.
Here's how you can keep yourself safe in a heat wave
DO: Drink lots of water.
"People lose huge amounts of fluid from their body when it's hot. So the key message is drink, drink, drink — nonalcoholic, please," said Dr. Gina Solomon, with the Public Health Institute.
DO: Check on your neighbors.
"During these unprecedented times, it's most important that we're neighborly and that we care for those who may be vulnerable to the impacts of [wildfire] smoke, heat and the virus," said Dr. Rohan Radhakrishna, director of the California Department of Public Health's Office of Health Equity.
DO: Take cool baths or showers.
An all-over drench is great, but there are other ways to cool down quickly, like freezing a bandana and putting it around your neck (efficient), or sticking your head inside the freezer (inefficient).
Cooling your body's pulse points, including behind your neck, inside your elbows, and behind your knees, can bring quick relief.
DO: Become familiar with the signs of heat illness.
Heat exhaustion happens when your body has lost too much water and salt. You may notice symptoms such as cramps, headache, nausea, tiredness or dizziness. Heatstroke happens when your body can no longer control its temperature, and your core temperature begins to rise. You may have a throbbing headache, nausea, confusion or hot, dry skin.
This guide from the state department of public health has the lowdown, with special sections for older people, infants and pets.
AVOID: Alcohol and caffeine.
Or at the very least, know that you still need to drink water to offset them. That's because they're both potent diuretics: That is, they cause you to urinate. "That reduces your body water," Solomon said. "You might think that drinking alcohol or drinking a lot of coffee would be helpful, but it's less helpful than you think."
AND: If there's a wildfire and you're choosing between a stuffy house and smoke pollution …
First choice would be to keep the windows closed. That's advice from Mary Griffin, a nurse who leads the home care division for the nonprofit Institute on Aging. Griffin says to use a filter setting, if you can, on the air conditioner — and use fans if you can't.
"A lot of people have these air conditioners that are in the window and they're really not very good when there's smoke out there, bringing air in from outside," Griffin says. "So we're saying use fans instead in the house because the fans will help circulate air in the house and not bring in outside air."
However, indoor fans without air-conditioning may not be as good a choice in extreme and dry heat events, or when extreme heat combines with wildfire smoke. Solomon of the Public Health Institute points out that in a battle between two threats, heat-related illness can kill people quickly.
"Air pollution isn't good for people, but it's less likely to kill you right away," she said. "If you end up in a furnace situation in a closed house with no air-conditioning, that's immediately dangerous to your health."
The trouble with fans, says Radhakrishna, is that when temperatures hit the mid-90s, they start to just move hot air around, helping it to become drier, which doesn't help. If you are experiencing smoke and heat, here are tips from Alameda County public officials about protecting your health against smoke (PDF).
Find a cooling center near you
If you don't have access to air-conditioning, another option is to look for your county's cooling center or your public library. Most counties keep up a list of available cooling centers — you can review what your county offers below and whether a cooling center near you is open:
Contra Costa County says that during periods of "very hot weather," information about their cooling centers will appear on the Contra Costa government website.
If you work outdoors, you have protections
In July 2006, a major heat wave in California resulted in at least 140 deaths over two weeks, the highest fatality rate on record from a single heat event, prompting state regulators to strengthen protections.
"The employer must provide drinking water that is fresh, cool and free so that each worker has a sufficient amount to drink," said Angela Yahaira Breining, a staff attorney with the Workers' Rights Program at Centro Legal de la Raza in Oakland.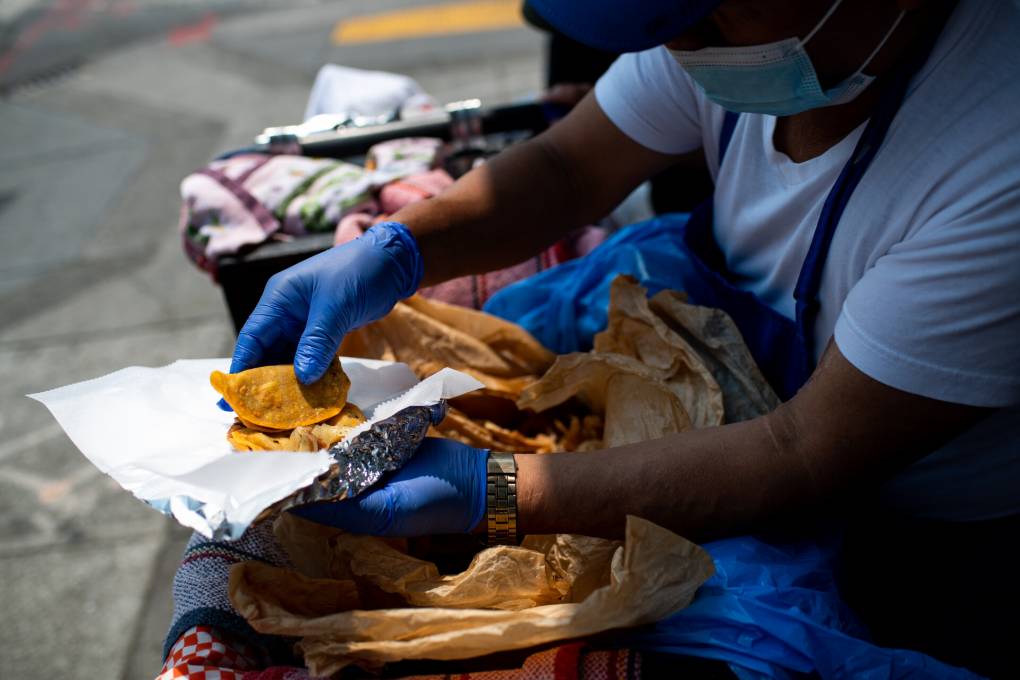 California defines a "sufficient" drinking supply as at least one quart of water per hour. And even if workers bring their own water bottles, employers must still have enough water available on-site.
When temperatures rise above 80 degrees, employers must also provide an area with enough shade to accommodate every worker on-site. But, Breining adds, workers also have the right to request breaks in the shade — regardless of temperature — whenever they feel the need to.
And when temperatures rise over 95 degrees, "employers or supervisors must observe these employees regularly," Breining said.
Having a supervisor on-site, she explains, is key to setting up a communication system that can swing into action if a worker starts to feel sick. "If someone is getting a headache, having them sit down, making sure that there is a safe way of communicating with higher-ups, and having an emergency plan in place," she said.
Setting up an emergency plan is the next requirement for employers, says David Hornung from Cal/OSHA. That includes "training for all the employees so they recognize the signs and symptoms of heat illness in themselves or in their co-workers," he said.
These protections include all workers — regardless of immigration or contract status.
A misconception Hornung says he often hears is that Cal/OSHA rules only apply to certain industries.
"It applies to all outdoor workers, not just agriculture," he said. "It applies to construction workers, gardeners, landscapers, maintenance people and anyone driving around in trucks that don't have air-conditioning."
An earlier version of this story was published Aug. 4, 2023. This post is adapted from an earlier KQED story and includes reporting from KQED's Carlos Cabrera-Lomelí. Bay City News and The Associated Press contributed to this story.