Q+A with Joyce Carol Oates
Joyce Carol Oates, literary legend and the author behind The Widow's Story, recently visited the KQED studios to record an episode of The Writers' Block, which will be released next week (listen to Joyce's episode). Until then, get to know her a little better with this Q+A, in which she talks about the dangers of time travel and what she learned after the passing of her husband.
In your interview with The Paris Review, you spoke of epiphanies that rained on you "like a meteor shower" following your husband's death. Which realization surprised you the most?
JCO: Most of the epiphanies were platitudes everyone knows -- at least intellectually. But it is something very different to think "All men are mortal" in terms of someone you love very much.
One of the last chapters of your memoir is titled "A Widow's Handbook." What are some other subjects you could potentially write an instructional manual on?
JCO: Being a writer, perhaps a "young writer."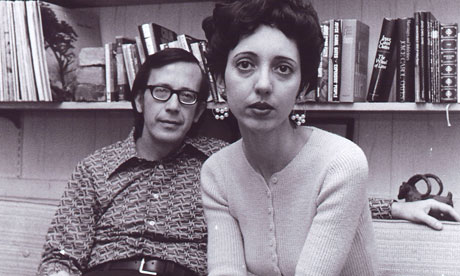 In an age full of new distractions, what's your secret to keeping your focus with writing?
JCO: Writing is more fascinating to me, most compelling and challenging. Nothing else is so engaging.
After decades of consistently great writing, you've become something of a literary icon and a major influence for up-and-coming writers. What writer or novel sparked your love of language in your early years?
Joyce Carol Oates: Lewis Carroll's Alice books, when I was eight years old.
What's the best book that someone has given you recently?
JCO: Numerous "best" books -- perhaps too many to list. But I was deeply moved by The Atlas of the Transatlantic Slave Trade by David Eltis and David Richardson.
If you could live inside one movie, which would it be and why?
JCO: My sense is that the romance of movies is wholly in the audience, not "in" the film. The only possible place to live inside a movie is to be inside a movie house.
If you could visit any other time period and place in history, which would it be and what would you do there?
JCO: As a woman, I would be wary of blundering into a time and a place inhospitable to women who don't "know their place" in the patriarchy. Again, the romance of the past is largely a fiction -- to actually inhabit the past would be a very unsettling experience.
What's something about you that might surprise people?
JCO: How little it takes to make me utterly happy -- just some quiet, the possibility of a walk, or a run; an uninterrupted time for work; some good, reliable reading material; the company of a close friend, and my cat Cherie.
Look for Joyce Carol Oates's episode of The Writers' Block next Wednesday, April 20, 2011 at kqed.org/writersblock. And be sure not to miss each episode as it becomes available by subscribing to The Writers' Block podcast!