Benjamin Hale, the author behind The Evolution of Bruno Littlemore, recently visited the KQED studios to record an episode of The Writers' Block, which will be released next week (listen to Benjamin's reading). Until then, get to know him a little better with this Q+A, in which he talks about inspirational chimps and how Don Bluth scarred him as a child.
The Evolution of Bruno Littlemore deals with a chimp who has acquired spoken language (along with quite the impressive vocabulary) and I read that you've studied ancient Greek. What novel or author sparked your love affair with language?
Benjamin Hale: I haven't studied Ancient Greek in years and my Greek's pretty rusty now. But studying Greek made an enormous impact on me, and the way I think of language, aesthetics, grammar, and so on. Plato affected my thinking about time, semiotics, love, law and language more than any other philosopher. Somebody said that all philosophy is just Plato and footnotes. It's true, you don't really need anyone else. As for my love affair with language, Nabokov was the first writer whose English I absolutely fell in love with. I think he once described Lolita himself as "my love affair with the English language."
You were inspired to write this book by visiting the Chicago zoo, but also by a haunting memory of a chimp with an Oedipus complex from a Jane Goodall documentary you watched as a child. Talk a little about that ape's story and what it means to you.
BH: The story is from the documentary People of the Forest. A young male chimp, Flint, had a neurotic, obsessive attachment to his mother, Flo. He clung to his mother far past the age that most chimps stop, and so on. She died when he was an adolescent, of natural causes -- she was old, it happens. But Flint could not accept her death. He dragged the body around with him for many days afterward, and allowed himself to waste away, refusing to eat or sleep. A while later, Jane Goodall found Flint dead beside a creek, having essentially starved himself to death. It was as if he died of grief. I was deeply disturbed by the idea that an animal could be just as crazy as a human being -- that he could let his emotions get in the way of the evolutionary imperative to live, just like a human can. It says something powerful about the depth of animal consciousness, especially in a very complex, intelligent animal, like a chimp or a human being.
Do you have any other scarring memories from movies you saw before you were ready?
BH: I'm not sure I was "ready" for it or not, but I once had a chain of thoughts that obliterated all my Sunday School teachers' propaganda, which arose from seeing Don Bluth's superb and bizarrely dark film, All Dogs Go to Heaven. The film's canine antihero dies and journeys into the eternal afterlife, where his soul is judged. I never questioned whether animals have souls -- if humans do, then of course so do animals. Take this together with the moral dichotomy of Heaven and Hell, and it makes perfect sense there's a heaven for dogs. But why does Dog Heaven have to be segregated from Human Heaven? And are there likewise separate departments of Heaven for cats, hamsters, monkeys, cockroaches, single-celled organisms? How would a single-celled organism be "good," or even know it's in Heaven? The more I thought about it, the messier it became, and eventually, considering also the unfathomableness of eternity (that I got from Indiana Jones and the Last Crusade -- both films were released in 1989), I rejected the existence of the immortal soul, unable to believe in it, and realizing I much preferred, a world in which humans and all other animals die and stay dead, and that's that. My atheism took root and has essentially not changed since. I was six years old.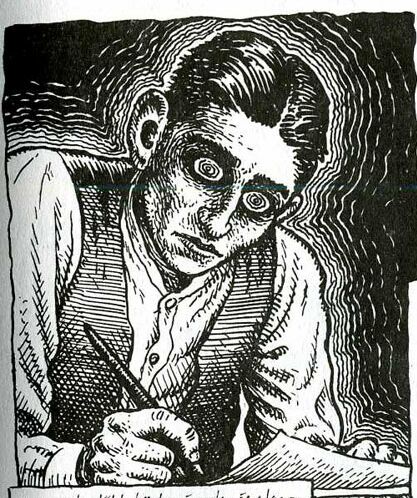 Excluding your own Bruno Littlemore, which ape or monkey do you most identify with? Sign-language expert Koko? Pick-pocket Aladdin's Abu? Bubbles Jackson? Or some other primate?
BH: Well, one of the main sources of inspiration for Bruno was Red Peter, from Kafka's story, "A Report to the Academy." Bruno is really kind of an updating and expansion of that short story. It's a brilliant idea, and it's not mine; I copped it from Kafka. Don't borrow, steal, as they say. But I did acknowledge the debt in the book; Bruno's father's name is Rotpeter, which is the name of Kafka's ape in the original German.
You're a self-professed Luddite. What's some antiquated piece of technology that you learned to love and refuse to update or do away with?
BH: I love electric typewriters; writing on them feels like operating a World War I machine gun, the way it heats up and rattles under your hands, it ought to smoke. But I'd have to go with the trebuchet.
If you could live inside one movie, which would it be and why?
BH: Interesting question. Most good movies one probably wouldn't want to live in. I guess I could live in La Dolce Vita -- being an early '60s paparazzo looks like it was a hell of a lot of fun. Or I would put myself in the audience in Stop Making Sense.
If your life was adapted to film, who would play you?
BH: Early Orson Welles.
You're on stage at a karaoke bar. What are you singing?
BH: One of the major regrets of my life (so far) is that although I love music, I have nearly zero aptitude for it. My singing voice is about as flat and grating as the Emergency Broadcast signal. If I'm soused enough, I'll embarrass myself by attempting "Moondance," but "Under My Thumb" is usually my go-to song.
What's a talent of yours that most people don't know about?
BH: I have a superb sense of direction. I have given accurate directions to a stranger, to a place I'd never been, in a city I don't live in, just because I happened to look at a map before I went there. I would swap this skill for singing voice in a heartbeat, though.
Look for Benjamin Hale's episode of The Writers' Block next Wednesday, April 6, 2011 at kqed.org/writersblock. And be sure not to miss each episode as it becomes available by subscribing to The Writers' Block podcast!