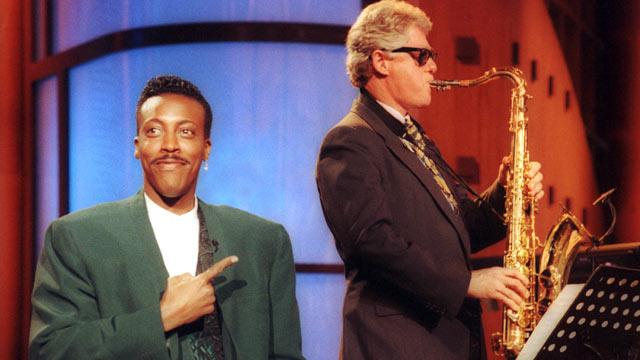 Long before Jerry Springer's "Jerry! Jerry!" chant secured its place in pop culture, late night talk show host Arsenio Hall was greeted nightly by his fans, aptly named the "Dog Pound," with their signature "arm pump" and accompanying bark of "woof woof woof!" This ensured that each of Arsenio's entrances was spirited, fun and youthful. Guests like Elizabeth Taylor and Michael Jackson pumped their arms along with them. It was an unstoppable force. It was Arsenioooooooo Hall!
Oh, you're not familiar? Did you miss Coming to America or this gem? Were you not awake past 10pm between 1989 and 1994? That's okay, I'll fill you in.
See, the late '80s brought a lot of drama to the "late night" genre. Joan Rivers had left the Tonight Show in order to pursue her own talk show on Fox, The Late Show starring Joan Rivers, in a rivaling time slot. This new job caused long time friend Johnny Carson to allegedly never speak to Joan again (so sad!). Even worse for Ms. Rivers, her show didn't do so great. After a year or so of bumpy reviews, Fox found that guest host Arsenio Hall was a better fit than Joan Rivers. Joan was dismissed in 1987 and Hall took over hosting duties for a 13 week trial period. As the Late Show deteriorated around him and Fox scrambled to better fill the time slot, Hall found himself with a job offer for his own program. Sorry, Joan.
In January 1989, the Arsenio Hall Show made its television debut from Paramount Studios in Hollywood, CA. As a fresh-faced young comedian with a down-to-Earth appeal and a whole lot of swagger, Hall was able to win the hearts and minds of America's 20-somethings almost instantly. Unlike many of his late night competitors, Hall appealed to a younger crowd. He booked bands and actors that were younger and newer. He tackled serious subjects, like the AIDS epidemic and racial inequality. He was adored by fans and celebrities alike. He was edgy. And then, after an ill-advised, nearly 60 minute interview with Nation of Islam leader Louis Farrakhan and subsequent ratings drop, he was gone. After 5 years as host of a super-popular late night variety show, Arsenio Hall took a big step back.
Now, after nearly 20 years out of the limelight, Hall plans to give late night another go on CBS in September of 2013. Though it's difficult to determine if the new show will live up to his previous late night success, Hall told the Hollywood Reporter, "People have moved on in society. Maybe there is some nostalgia: "I used to watch Arsenio when I was in college." But we're doing a show for people who have moved on, and now they can sit around with their kid who can stay up late, and there will be a lot of stuff they can both dig." Let's hope his predictions are accurate.