Oakland VA Office Makes Veterans Wait 618 Days for Disability Pay
by Aaron Glantz, The Bay Citizen
The Department of Veterans Affairs has failed to provide key information to Congress and the public that shows the agency's ability to quickly provide service-related benefits has virtually collapsed under President Barack Obama.
Infographic: Veterans waiting longer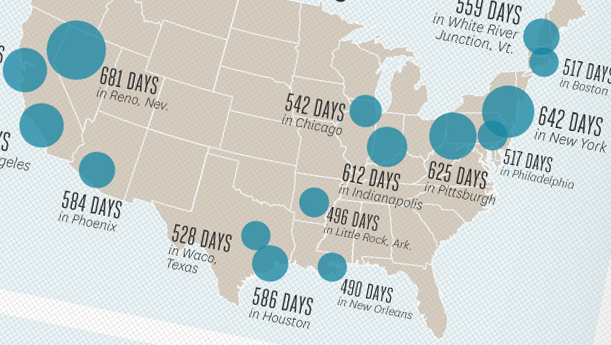 Internal VA documents, obtained by the Center for Investigative Reporting and authenticated by the agency, reveal that delays newly returning veterans face before receiving disability compensation and other benefits are far longer than the agency has publicly acknowledged. The documents also offer insight into some of the reasons for those delays.
The agency tracks and widely reports the average wait time: 273 days. But the internal data indicates that veterans filing their first claim, including those who served in Iraq and Afghanistan, wait nearly two months longer, between 316 and 327 days. Those filing for the first time in America's major population centers wait up to twice as long – 642 days in New York, 619 days in Los Angeles and 618 days at the Oakland office, which serves Northern and Central California.
The ranks of veterans waiting more than a year for their benefits grew from 11,000 in 2009, the first year of Obama's presidency, to 245,000 in December – an increase of more than 2,000 percent.
As a candidate, Obama had promised to revamp a "broken VA bureaucracy," but the documents reveal that many of the administration's attempts – including efforts to boost staffing and computerize claims processing – have fallen apart in the implementation. Calls to the White House press office were not returned.
Despite agency promises to eliminate the claims backlog by 2015, the internal documents show the VA expects the number of veterans waiting – currently about 900,000 – to continue to increase throughout 2013 and top a million by the end of this month.
"It's about what's due to you, about being taken care of physically and mentally," said Aundray Rogers, an Army veteran of the Iraq War and president of the veterans club at City College of San Francisco.
Rogers, who waited more than two years for the VA to grant his disability claim for post-traumatic stress disorder, said he regularly has flashbacks of explosions and carnage while on campus and in class.
He is in the process of appealing the VA's decision that he is 20 percent disabled. The low rating, which entitles him to $255 a month, "takes away from the validity" of his wartime experience, he said.
In Washington, U.S. Rep. Jeff Miller, R-Fla., chairman of the House Committee on Veterans' Affairs, said he was not surprised that the VA's internal documents painted a much gloomier picture than the agency's public pronouncements.
"One of the biggest oversight challenges we've encountered is just getting VA to engage in an honest conversation," Miller said.
The agency's biggest problem, he said, is a "culture of complacency."
The VA downplayed the importance of the internal documents.
The agency still intends to meet its goal of resolving nearly all claims within four months by 2015, VA spokesman Joshua Taylor said. He blamed the skyrocketing delays on a 50 percent increase in the number of claims filed, a combination of an uptick in returning Iraq and Afghanistan veterans and Vietnam veterans requesting compensation, for illnesses newly connected to Agent Orange. The VA also has made it easier for veterans to file claims for PTSD and Gulf War illness, Taylor said.
In a separate emailed statement, the agency argued that it "consistently provides our numbers during Congressional hearings and briefings. What is not available online or in these reports is generally available on request."
The VA typically takes months to respond to the Center for Investigative Reporting's Freedom of Information Act requests, often stating that information requested must be manually tabulated. Yet the internal documents show the agency tracks its performance at an extremely granular level of detail. The agency also failed to provide this information to attorneys in Veterans for Common Sense v. Shinseki, a federal class-action lawsuit brought on behalf of Iraq and Afghanistan veterans with post-traumatic stress disorder. The lawsuit died when the Supreme Court refused to review the appeal in January.
"They have a lot more detailed information than we were led to believe," said Ryan Hassanein, a partner at Morrison & Foerster, the law firm that represented the veterans.
Lawmakers who have been working on the issue said they hadn't seen the documents before. Rep. Barbara Lee, an Oakland Democrat, who met senior VA officials Feb. 27 to discuss problems at the Oakland office, said she was informed that the agency was making slow but steady progress.
"I'm not going to be an apologist for the president or the VA, but this was a long festering mess when they came in," said Rep. Mike Thompson, a St. Helena Democrat and Vietnam veteran who attended the same meeting. "I think they have made improvements."
The VA's internal documents tell a different story.
In April, 16 members of Congress sent VA Secretary Eric Shinseki a letter demanding that the agency "send immediate help" to the Oakland office.
Since then, the number of veterans waiting more than a year for their benefits from the Oakland office has increased by nearly 6,000, to 19,077, and the average wait has increased from 326 days to 441, according to internal documents. The typical wait time for Northern California veterans filing new claims, including those returning home from Iraq and Afghanistan, increased from 521 days to 618.
During that time, the total volume of claims pending also dropped slightly as the agency began mailing thousands of local veterans' claims to offices in Nebraska and Oklahoma.
The documents obtained by the Center for Investigative Reporting shed light on why the agency is failing to make headway despite public and political pressure and its own promises.
They show that while the agency has spent four years and $537 million on a new computer system, 97 percent of all veterans' claims remain on paper. Since those numbers were tallied by the agency in January, the VA's two top technology officers have announced their resignations, saying they had accomplished their goals.
On Feb. 27, the agency's principal deputy undersecretary for benefits also announced he was quitting.
In interviews, workers at five VA offices said they were exhausted by the ever-growing piles of paperwork, with files becoming so thick that employees frequently have asked veterans to resend medical records or military service documents simply because the claims workers could not locate them.
Cindy Indof, who handles appeals at the VA office in Columbia, S.C., said it is not uncommon for her to see the same medical information in a veteran's claim repeated two or even three times. The growth in paperwork, she said, is compounded by a points system that gives performance bonuses to workers for sending letters to veterans but not for spending extra time reading a claims file.
Taylor, the VA spokesman, said the computer system would be launched at all regional offices by the end of the year. "The transition is under way. We're at the midpoint. We're not at the endpoint yet," he said.
The agency's public pronouncements about hiring 3,300 additional claim processors since 2010 to cope with the influx of returning Iraq and Afghanistan veterans also were misleading, the documents show.
Because of turnover and the loss of more than 2,000 workers temporarily paid through stimulus funds, staffing at the VA's 58 regional offices actually has increased by fewer than 300 people since September 2010 – even as the volume of new claims increased dramatically.
At a majority of the regional offices – including Oakland– the VA employs fewer people than it did two years ago, according to the VA's internal documents.
"You have a workforce that is completely burnt out, and there is no help in sight," said Darren Foster, a Gulf War veteran who worked for the VA for 15 years before leaving in October. He now processes workers' compensation claims for the Labor Department, in an office that he says is more efficient and better managed.
"It was a hard decision to leave," Foster said. "I love helping veterans. But I just couldn't do it anymore."
This story was edited by Amy Pyle and copy edited by Nikki Frick and Christine Lee.