An Invitation to Amy Poehler's Party for Smart Girls
As today's young girls grow up with an Internet that equates selfies and empowerment, Amy Poehler's project, Smart Girls at the Party reinvents girl power online by highlighting females of all ages "who are changing the world by being themselves."
Through YouTube, Smart Girls at the Party offers young girls a well-rounded social network that supports their hopes and dreams while addressing their fears and challenges. This fills a cultural void concerning the extracurricular education and socialization of young girls, recently highlighted by the much talked about "Goldiblocks" toy commercial that showcases female empowerment through engineering marvels. The "Goldiblocks" product falls short of its ideological claims, while Poehler delivers meaningful YouTube content at no charge.
YouTube is a dangerous space for young children and especially young girls, who are inevitably exposed to the "male gaze" early on. In a disturbing YouTube phenomenon, countless preteen girls have uploaded videos of themselves asking users to comment on their appearance, in what have become known as "Am I Ugly or Pretty" videos like the one below.
As if it weren't enough to make a name for herself in a male-dominated comedy industry, or play such a progressive feminist character as Leslie Knope, a small town council person on the television show, Parks and Recreation, Amy Poehler, has also paired with producer, Merdith Walker, and musician, Amy Miles, to reach out to young girls specifically.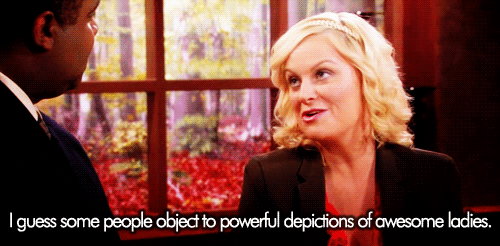 Much like the characters she plays, Poehler's "smart girls" are fun loving and confident in themselves. And while some have criticized Smart Girls at the Party for not treating young girls seriously, Poehler's mixture of real talk and goofy production proves that young girls can be seriously fun. What better way is there to get smart girls talking to each other than to throw a party for them?
The YouTube channel features a wide range of videos including direct addresses from Poehler's webcam that answer viewers' questions, and more traditional interviews with positive role models that are both well-known and up and coming. For "Ask Amy," Poehler provides intimate advice and candid pep talks for all ages about everything from stress to power.
Poehler often cheekily alludes to things viewers can look up for further inspiration; after quoting Alfred, Lord Tennyson in her "love" episode she joked, "He is a very famous hip-hop producer. You should check out his work."
Smart Girls doesn't just tell young girls that "smart girls do stunts," "smart girls go to space camp," or that "smart girls become firefighters," they have real women proving it in their videos. They also spotlight girls in their everyday lives with "Girls of the World," which makes the global scope of the project clear.
In addition to its distinct feminist slant, Smart Girls encourages young boys and men to share their talents and perspectives with the community during "Boy's Minute." In one such minute, Poehler's Parks and Recreation co-star, Chris Pratt, humorously "teaches" viewers how to fashion a tie in the style of his character, Andy, while proudly aligning himself as a "smart girl."
Smart Girls at the Party celebrates feminism online. To keep the party going offline, download a "Smart Girl Party Kit," which includes printable decorations and party favors, suggestions for charitable actions as part of Smart Girls' "Operation Nice" and the official "Smart Girls Party Song."