Review: Everyone Goes Soft at Mawkish, Pandering Grammys
Katy Perry performs onstage during the 57th Annual Grammy Awards. (Photo: Michael Tran/FilmMagic)
Chances are you found yourself oddly enjoying the first hour or so of the Grammy Awards last night—a foreign sensation, to be sure, since the show has been a slate of dreck for years now. Much like KFC's Famous Bowl, which smashes five offerings on the fast-food giant's menu together into a failure pile in a sadness bowl, the Grammy Award broadcast historically forces disparate performers of varying abilities to collaborate onstage for the sake of the elusive "Grammy Moment."
Who can forget Stevie Wonder suffering the Jonas Brothers' incessant exhortations of "Come on, Stevie!" from 2009? Or the trainwreck opening from 2005, when producers made the Black Eyed Peas, Gwen Stefani, Los Lonely Boys, Maroon 5 and Franz Ferdinand to play five different songs, all at once?
Instead, last night's Grammys opened with two songs from AC/DC, a non-event about as underwhelming as Steely Dan headlining Coachella. But that's truly as hard-edged as the broadcast's performances ever got, which is a weird thing to say about the Australian band-slash-dusty-museum-to-itself which has been doing essentially the same one thing over and over for decades.
Clearly, the show's producers have finally learned from other music-awards shows, and realized what audiences respond to. Amid all the muck and mire at the Grammys, quiet breakout performances were happening on other channels, like Adele's career-making performance of "Someone Like You" at the 2011 MTV VMAs, or Sam Smith's VMA rendition last year of "Stay With Me"—both heart-stopping moments of solemnity that stuck out from their surrounding of pyrotechnics, backup dancers, guitar solos and other cacophony.
And so this year's Grammy broadcast was full of faux-poignant, uplifting ballads, designed to pull at the heartstrings. Sparse instrumentation or gospel choirs accompanied many of them. A spiritual vibe reigned. When host L.L. Cool J talked about "the undeniable and undying power of music" in his introduction, what he foreshadowed was a show pandering to those who want music to hold their hand and constantly inform them how meaningful it is—and, by extension, a show that became a mawkish valentine to its own importance.
Ariana Grande, who has always been a talented singer with the ability to sell a song, got the chance to present another side of herself with a ballad, "Just a Little Bit of Your Heart" (a 180-degree turn from her recent EDM-esque hit, "Break Free"). But Kanye West, coming off the most experimental and noise-addled album of his career, instead sang a tender ode to his new child, "Only One," a mostly forgettable, repetitive song co-written with Paul McCartney. Left-Shark employer Katy Perry, who excels at upbeat dance anthems, instead followed monologues by President Obama and domestic violence activist Brooke Axtell by reverently singing "By the Grace of God," serious face, white dress and all. (The domestic-violence spot rendered even more baffling the Grammys' repeated insistence on nominating, and inviting to perform, certified domestic abuser Chris Brown.)
Usher: another ballad, sung with a harp. Brandy Clark and Dwight Yoakam: another ballad, with acoustic guitars. Zzzzzzzzzz. Two and a half hours in, the only rap song heard was one in a commercial for dog treats, which was followed by Ice Cube and Dr. Dre trying to recast their landmark gangsta rap album Straight Outta Compton as "non-violent protest." Even N.W.A. went soft. What the hell was happening?
https://vine.co/v/OUvaqAPEltt/embed/simple
There were other specific terrible moments as well—in particular, Beck's Morning Phase winning Album of the Year over Beyoncé's Beyoncé, which caused Kanye to perform a marvelous, curtailed parody of his "Imma Let You Finish" speech by storming the stage before turning back to his seat; everyone knew what he'd implied. Beyoncé did, in fact, make one of the greatest albums of all time, a masterwork of tremendous proportion that will last decades beyond the sleepy 12th studio album by a Scientologist who believes in chemtrails. We're talking Crash-beats-Brokeback Mountain levels of myopia from Grammy voters, here.
Other cringeworthy moments: A reunited E.L.O. performed "Evil Woman" and Paul McCartney seemed to be the only one who knew the hit, with the possible exception of Taylor Swift. (Swift has a reliable penchant for standing and dancing to anything at awards shows, so it's hard to tell.) Pharrell came onstage dressed to audition for a Wes Anderson movie but read a Werner Herzog-esque script before throwing classical pianist Lang Lang and 9th-grade Algebra teacher Hans Zimmer into a confusing reworking of "Happy." Hozier sang that one song you never need to hear again. Sam Smith won four awards, guaranteeing that you really, really never need to hear that other one song again. Lady Gaga shimmied obsequiously against Tony Bennett during a version of "Cheek to Cheek," clearly having other body parts in mind to adjoin. Jessie J will still not go away.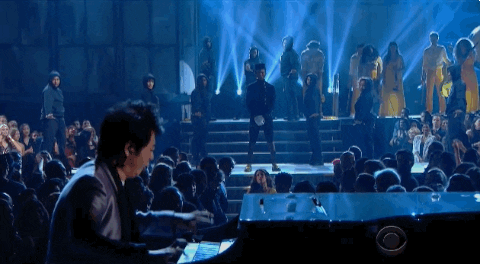 Of course, there existed some light in the darkness. Haim, fashion game on point, singing along to "You've Lost That Lovin' Feelin'." Madonna still having great taste in backup dancers. Ed Sheeran, performing with John Mayer, Herbie Hancock and Questlove, and not being forced into an awkward mashup of "Your Body is a Wonderland," "Rockit" and "Distortion to Static." Miranda Lambert winning Best Country Album, deservedly. Annie Lennox nailing the Screamin' Jay Hawkins hit "I Put a Spell on You."
Other highlights: a nice hat tip to George Wein, founder of the Newport Jazz Festival (which brought the world this gem of Anita O'Day singing "Sweet Georgia Brown and "Tea for Two"). Rihanna, Kanye West and McCartney doing their surprisingly great new song, "FourFiveSeconds." Prince's remark that "Albums, like books and black lives, still matter." And of course, the perfect, surreal re-creation of Sia's "Chandelier" video by Kristen Wiig and Maddie Ziegler.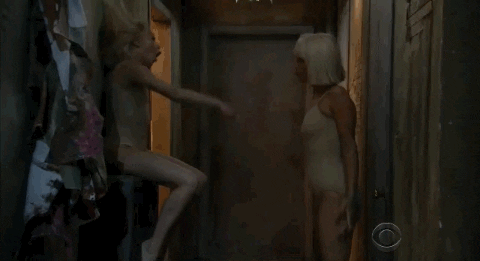 But none were enough to offset the night's many moments of self-importance. A closing number with Beyoncé singing gospel standard "Take My Hand, Precious Lord" all but sealed it, punctuated by Common and John Legend performing "Glory," from the movie Selma. A powerful song in the film, and on its own, sure. But at the end of a night overstuffed with meaning and uplift, it was hard to be moved anymore.