TV Family Portraits: The Strauses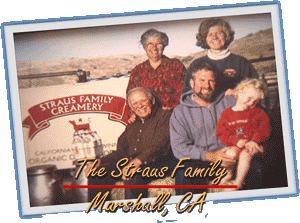 KQED Public TV 9 is producing portraits of five Bay Area families to air alongside the American Family TV series.
The Bay Area is one of the largest urban centers in California. When one talks of farms in the area, it is more likely to be the computer server farms in Silicon Valley. However, in some Bay Area counties such as Marin, agriculture still ranks as one of the largest employers.
The Straus family of Marshall, CA, proves that agriculture is still alive and well in the Bay Area. For more than sixty years, The Straus family has been running a dairy on the beautiful rolling hills above Tomales Bay, 60 miles north of The City. The three generations that live on the farm: founders Bill and Ellen Straus, their oldest son Albert and his wife, Jean and son, Rueben carry on an American tradition that is quickly disappearing.
Farming has been in the Straus family for four generations. "My father came from an orthodox German Jewish family and when he was 18, he decided to study agriculture, says Bill. "His guardian told him, 'I won't allow you to study agriculture. A Jew doesn't go into agriculture.' But he was determined. Once my father came of age, he went into farming. There were not many Jewish farmers in Germany. I would think that there were not more than half a dozen."
After Hitler came into power, Bill left Germany and first moved to Palestine and then to California. He studied agriculture at the University of California at Berkeley, and after graduation, got a job on a farm in Inverness. He fell in love with the area and bought his own dairy farm in nearby Marshall in 1941. He and Ellen were married a few years later.
"To us, the farm is really a dream that our people have had for centuries -- it was to get back to the soil, to be a whole people," says Ellen. "We feel like we were lucky enough to be able to do that here in the United States. And it means everything to us."
Bill and Ellen raised four children on the farm. All have gone into careers that somehow relate to the family business. Youngest son Michael, who also lives on the farm, runs a business that promotes organic farming. Youngest daughter Vivian runs the marketing department for the creamery and her sister has an organic mushroom farm. Albert, the eldest, was the one who decided to return to the farm, eventually taking over the dairy when his father decided to retire. Ellen recalls that when Albert came back to the farm, he had all kinds of new ideas. It was especially difficult for Bill to let go. But, as she says, Albert turned out to be right. "It wasn't always easy to agree to what Albert wanted to do," she says. "But if Bill had really said this is the only way Albert was going to farm, I don't think that he would have stayed. I mean, what fun would it be for him?"
Unable to compete with the large factory farms that were taking over the milk industry, Albert decided to look for a niche market that was being ignored by the bigger dairies . He switched the farm to organic, then built a creamery and began bottling the family's milk, making butter, cheese and yogurt, and selling the products all over California. The results have not only kept the family farm going, but have allowed it to grow by more than 400 percent in the last eight years. Dozens of other family farmers in West Marin have also decided to capitalize on the organic market and are growing organic vegetables, planting organic orchards and raising grass-fed beef.
Agribusiness is not the only threat to family farms. As the urban population in the Bay Area grows, pressures to turn rich farmland into tract homes increases. By the 1970s, family farmers were finding it more lucrative to sell their land to developers than to farm it. Farms began to close at an alarming rate. Ellen Straus and other West Marin farmers decided to do something about it, forming the Marin Agricultural Land Trust, the first agricultural land trust in the nation. To date, the Trust has protected, in perpetuity, more than 30,000 acres of farmland in Marin County.
"We don't want to lose the farms that we have left in our communities," say Ellen. "When we came here, it was like we had found paradise, and when it started to be threatened, because of development, we decided to take a stand and try to stay here and fight for the land that we loved. Even when it was very, very hard, and we could hardly make it, there was never any idea that we would give up."
Music used in American Family Portraits: The Straus Family, Marshall, CA
(in order in which they are used in the film):
Fantaisie en mi mineur, Performed by J. Savall, Written by Anonyme XVIIe siecle-J. Savall.
From the CD Tous les Matins du Monde (Travelling)
Sonnerie de Ste Genevieve du Mont-de-Paris, Performed F. Biondi, J. Savall, P. Hantai, R. Lislevand, Written by M. Marais.
From the CD Tous les Matins du Monde (Travelling)
Muzettes I-II, Performed J. Savall, P. Hantai; R. Lislevand, Written by M. Marais.
From the CD Tous les Matins du Monde (Travelling)
Cello Song, Performed and written by Nick Drake.
From the CD Five Leaves Left (Hannibal)