TV Family Portraits: The Sorros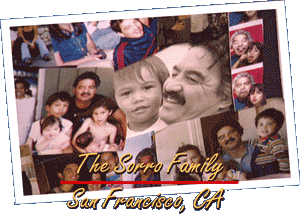 The Sorro Family of San Francisco, CA, are a multi-cultural, multi-generation working class family who approach life with passion, humor and salt of the earth humanity. Although the family is often busy with numerous projects and causes, they all seem to find time to gather around the family dinner table in their Bernal Heights home for large, down home cooked meals and politickin'.
"We're working class and we recognize that and are proud of that," says younger son Joaquin, "but at the same time, I feel like, we are a rich family."
The coming together of diverse groups of people has been a part of the Sorro family for decades. Bill's Spanish/Scottish mother and Filipino father were married in San Francisco in the early 1920s. Anti-miscegenation laws prohibited a man of color -- Black, Asian, or Latino -- from marrying a white woman, so the day they were married, Bill's father was arrested for white slavery and spent a little over a week in jail. Bill was raised in San Francisco's Fillmore District, which was known as the "West's Little United Nations." Bill's wife, Giuliana Millanese, grew up in the East Bay in an Italian-American family with strong ties to Italy that, according to Bill, run very deep.
"Giuli's the love of my life," says Bill. "She's my comrade, my sister, my lover, my best friend. Huli really helped show me about manhood and what strength really is about. One of the secrets is to bite your tongue, and listen. And your sister, your friend, can show you a whole bunch."
Bill met Giuli during the struggle to save the International Hotel in San Francisco's Chinatown, where predominantly Filipino and Chinese seniors with little money who had lived there for years were being evicted by one of San Francisco's richest landowners.
"I'm honored to have been a tenant of the I-Hotel," says Bill. "You know, it's one thing to advocate for a struggle, but it's another thing to, to really be physically a part of it. Where ever people are struggling, you know, for, you know, integrity and respect and love for the community, it's your victory, too."
It was natural that when Bill and Giuli decided to get married, they would do so at the International Hotel. More than 2000 people came because they heard there was free food, including a roasted pig.
"I really feel that being married at this very special place, being blessed by this very special struggle, really, really helped keep our marriage and our connection together," says Bill, "'cause it was always like we came into it being a part of much more than just two people."
Bill and Giuli's two children are now brilliant spoken word artists. (Read some of Joaquin Sorro's Poetry.) Bill also has four other kids with families from a previous marriage, which everyone affectionately calls Bill's First Litter. All are creative, politically people who feel that it important to work on family issues as it is to work on larger social issues.
"If we're fighting for a better world, but our home is falling apart, and our relationship with each other ain't no good, then it ain't no good," says older son Giulio.
Music used in American Family Portraits: The Sorro Family, San Francisco, CA
(in order in which they are used in the film):
Serenata, Performed and Written by Carlos Paredes.
From the CD O Melhor de Carlos Paredes Guitarra (Valentim de Carvalho)
Cantaloop (Flip Fantasia), Performed by Us3, Mixes & Samples by Mel Simpson and Geoff Wilkinson.
From the CD Hand on the Torch (Blue Note)
The Suite Theme, Performed by Maxwell, Written by Musze.
From the CD Maxwell's Urban Hang Suite (Sony/Columbia)
Back on the Track, Performed by Jimmy McGriff, Written by Horace Ott.
From the CD Electric Funk (EMD/Blue Note)
Sparkle City, Performed and Written by Shuggie Otis.
From the CD Inspiration Information (Luaka Bop)