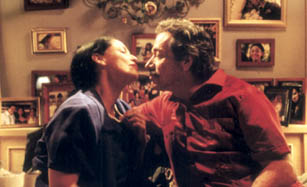 KQED Education Network and New Media invited twelve Bay Area Latino families to share their family stories online. Participants brought photos, mementos, and memories to KQED. Our New Media staff assisted the families with scanning images and digitizing video to create personal family web pages. View the completed family albums.
About the show:
This heartwarming drama reveals the enduring strength of family in America today as it chronicles the lives of the Gonzalez family of East Los Angeles.
Jess Gonzalez (Edward James Olmos), a Mexican-American barbershop owner, is the patriarch of the Gonzalezes: Berta (Sonia Braga), his wife of many years, and their grown children, Nina (Constance Marie), Esteban (Esai Morales), Vangie (Rachel Ticotin), Conrado (Kurt Caceres) and Cisco (A.J. Lamas). The extended family includes flamboyant Aunt Dora (Raquel Welch), Jess' sister. Together, they form an American family living through the universal struggles and triumphs of daily domestic life.


Special Event: Get Healthy with KQED and American Family

Sat, Dec 13, 10am to 1pm
Oakland Charter Academy
3001 International Boulevard
Oakland

KQED Education Network, in partnership with Children's Hospital & Research Center at Oakland and the American Diabetes Association, is proud to present a Free Health Fair for Families! Participants can receive diabetes prevention counseling and resources, as well as information on dental care, nutrition and other health-related topics. The event will also feature activities for children and families and raffle prizes!

Many resources and services will be available in English and Spanish. Pueden obtener materiales y servicios en Inglés y Español. For more information, call 415.553.2819.

Additional participating organizations include, Alameda County Public Health Department's "Healthy Kids, Healthy Teeth," Alameda Alliance for Health, La Clinica/Casa CHE, Native American Health Center, Oakland Ready To Learn and Vision Hispana.



______________________



The Series
Get program descriptions and local airdates.



Local Activities
Learn about local family-related events hosted by KQED. Get ideas for activities you can do at home.



Online Family Albums
See scrapbooks and read stories created by Bay Area families.



TV Family Portraits
Preview portraits of five Bay Area families. These segments, produced by KQED Public TV 9, will air along with the series.



TV Guide calls American Family "the best prime time soap in years," and gives it a 9.