TV Family Portraits: The Hessons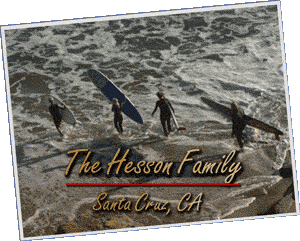 KQED Public TV 9 is producing portraits of five Bay Area families to air alongside the American Family TV series.
The Hesson family home in Santa Cruz, CA is ruled by laughter, love and a strong sense of play. Husband and father Frosty is a well-known surf coach and is one of the oldest people to surf Maverick's, the big wave surf spot south of San Francisco. Wife and stepmother Zeuf is a competitive athlete, emergency room nurse and a two-time breast cancer survivor who has helped dozens of other women get through their illness. The couple along with their children, Lake and Roque, are a fixture in the Santa Cruz surf community and can usually be seen riding the waves together at the break in front of their home. The family's attitude towards life, along with the strong support from their community, has often helped to get them through difficult times.
Zeuf relocated from Berkeley to Santa Cruz nine years ago, meeting Frosty while surfing the breaks near her new home. "If someone were to say to me 'in your future I predict that you are going to marry Frosty Hesson,' I would have said, (big laugh) 'you've got to be kidding me!'" says Zeuf.
In 1993, Zeuf was diagnosed with breast cancer for the first time. After recovering from a mastectomy and chemotherapy, she was eager to get back into the ocean, and used both surfing and paddleboarding to help her heal. Returning to her former athletic ability was not easy. Frosty remembers the day Zeuf attempted a 30-mile journey across the Monterey Bay. "That really was kind of the first time that I ever took significant notice of her because paddling across the bay was, I think, almost a nine-hour endeavor. Zeuf was using it as part of her strength recovery from having had cancer. She finally reached a point where she wasn't making any forward progress. As an athlete, having to face failure╔you had dreams, and goals, and aspirations, and not to fulfill them is very difficult. I got to see her in that moment, and that was a hard moment."
Several years after the death of Frosty's first wife, Zeuf and Frosty married. "I am so grateful that he and his children came into my life," says Zeuf. "Lake & Roque have adopted me as their parent, and I've adopted them as my children. Frosty is the love of my life."
Unfortunately, Zeuf's cancer returned after the family had been together less than a year.
"The first time I had cancer, I wasn't afraid, I was, I was angry, because it was going to get in the way of my life," recalls Zeuf. "The second time I had cancer, I had, I had fear and despair as I was hoping it was just gonna be in my breast and not everywhere else. I didn't want it to be everywhere else. I hadn'tbeen married long enough. I hadn't experienced my stepchildren long enough. There were a lot of things I still wanted to do."
"We had many nights where we just stayed up all night and talked about who we are, who we said we were," says Frosty. "As, as you live your life, you find out you have opportunities to step up to who you've always represented yourself to be, and this was an opportunity for us to step up to who we always said that we were."
As the family rallied around Zeuf, so did their community. People would run errands, drop by food, or just be there to talk. Zeuf also went to breast cancer support groups held at the hospital she worked.
The family tries to give back to the community by volunteering time with the Santa Cruz based organization Ride a Wave (RAW). Throughout the summer, RAW takes physically, economically, or developmentally challenged children and adults to the beach and gets them into the ocean and often on boards to try surfing. The results are almost as exciting for the volunteers as they are for the participants.
"Seeing them smile, lying there on the front of the board, you know, they're surfing," Zeuf says. "It doesn't matter what position they are in, we've got them on the board, we're getting them surfing. It is a wonderful experience and gift to be able give."
Music used in American Family Portraits: The Hesson Family, Santa Cruz, CA
(in order in which they are used in the film):
Pretty Little Adriana, Written and Performed by Vince Gill.
From the CD High Lonesome Sound (MCA)
Tell Me Lover, Written and Performed by Vince Gill.
From the CD High Lonesome Sound (MCA)
Jenny Dreamed of Trains, Performed by Vince Gill, Written by Vince Gill and Guy C. Clark.
From the CD High Lonesome Sound (MCA)
You and You Alone, Written and Performed by Vince Gill.
From the CD High Lonesome Sound (MCA)