TV Family Portraits: The Johnsons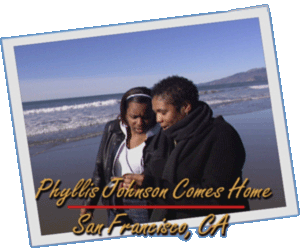 KQED Public TV 9 is producing portraits of five Bay Area families to air alongside the American Family TV series.
Being in prison is tough for anyone, but for women with children, doing time can be especially difficult. Phyllis Johnson of San Francisco, CA started going to prison in 1991 and did six years in various California correctional facilities. Not once during that time did her children get a chance to see her.
"Being away from my children was always hard for me," recalls Phyllis. "There was a void there. I always thought about would I be able to reunify with my children once I came home. How would they accept me coming back? Would they have a different type of feeling about their mother being in prison?" According to a Bureau of Justice Statistics Bulletin, in 1998 there were an estimated 950,000 women under the care, custody or control of correctional agencies in the United States. Approximately 75% of these women were mothers and two-thirds had children under age 18.
Phyllis says that when a woman is arrested, little thought is given whether she is the primary caregiver for her family. If there is no immediate family to care for the woman's children, they are put into foster care. In California, if the state pays for the care of the children, the incarcerated woman must pay back the state for all monies spent once she finishes her sentence. This often puts a heavy financial burden on a newly released woman who is also struggling to get back on her feet after being incarcerated.
According to Phyllis, few women have any idea that money will be coming from their pocket once they start working. The payments can be as much as half of the woman's paycheck, which has a financial ripple affect. "How do you raise a child, how do you pay your bills, how do you clothe them and feed them, if four hundred and something is coming out of your check and you're only bringing home like six something and you also have to pay rent That's totally incredible," she says.
Once Phyllis gained her release, she began to turn her life around. Her first step was to find full time employment, which is not always easy for a woman with a criminal record. Phyllis loves her job with the California Coalition for Women Prisoners and Legal Services for Prisoners with Children. Part of Phyllis's work is helping women in prison prepare for their release and reunification with their children, and her prison experience is seen as an asset, rather than a liability.
Phyllis is also determined to reestablish her family. She's had to deal with her children's fear and anger over her absence, but she loves it all. "I was always afraid of them, and they were always afraid of me," says Phyllis. "They didn't know who I was and I didn't know who they were and now I'm allowing them to get to know who I am. I'm participating in my family's life the way I haven't ever."
Music used in American Family Portraits: Phyllis Johnson Comes Home
(in order in which they are used in the film):
Turn Back the Hands of Time, Performed by Tyrone Davis, Written by Daniels/Thompson.
From the CD Soul Hits of the '70s, Volume 2 (Rhino Records)
Every Ghetto, Every City, Performed and written by Lauryn Hill.
From the CD The Miseducation of Lauryn Hill (Ruffhouse)
Mercy Mercy Mercy, Performed by Cannonball Adderley, Written by Joseph Zawinul.
From the CD The R&B Legacy: The King to the Hammer (Capitol)
Starting All Over Again, Performed by Mel & Tim.
From the CD Soul Hits of the '70s, Volume 9 (Rhino Records)