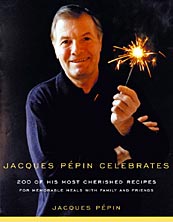 JACQUES PEPIN CELEBRATES
A companion book published by Alfred A. Knopf

To Jacques Pépin, every meal is a celebration. And his delight in creating delicious offerings for family and friends is contagious as he shares the secrets of meals he has prepared over the years for holidays, special occasions, and family gatherings.

Organized soup-to-dessert, this enormously appealing book contains all the dishes demonstrated in Pépin's new television series on KQED. For people who like to cook, orchestrate a whole meal, and present it artistically, here are more than 200 recipes for Thanksgiving, Christmas, Hanukkah, Easter, Independence Day, and any other special occasion or family gathering. Some menus are elaborate, such as the dazzling Christmas dinner of Oysters on the Half Shell with Mignonette Sauce, Braised Duck, Black Truffle Salad, and a Chocolate Yule Log; others are relatively simple; and one can mix and match from a wide range of exquisite and earthy flavors. Two chapters are devoted to mastering the techniques of bread and pastry dough and putting them to use in savory and sweet creations. And throughout, Jacques is at your side every step of the way, with foolproof instructions and hundreds of how-to photographs.

So don your apron, fill your kitchen with good smells, and make every occasion a celebration.

To purchase the book, please call 1.800.441.3000.