Ingredients
Yield: 8 servings

• 2 ducks, 4-5 lb. each

Stock
• 2 lb. duck bones, plus necks and gizzards
• 1 tbsp. canola oil
• 1 med. onion, peeled and chopped (see onion prep)
• 2 med. carrots, peeled and chopped
• 1 rib celery, cut into 1" pieces
• 3 cloves garlic, skin on, crushed
• 2 tbsp. tomato paste
• 1 bay leaf
• 2 tsp. fresh thyme

Duck and Cracklings
• 8 pieces duck, 4 from each (above)
• Extra duck skin and fat, cut into 1" pieces
• 3/4 tsp. salt
• 1/2 tsp. ground black pepper

Honey Sauce
• 1/4 c. sugar
• 1/4 c. red wine vinegar
• Reduced duck stock
• 1 tbsp. honey
• 1/4 tsp. salt
• 1/8 tsp. ground black pepper
• 1/2 tsp. potato starch, dissolved in 1 tbsp. water

Sweet Potatoes in Honey
• 4 lg. sweet potatoes or yams
• 2 tbsp. unsalted butter
• 1/4 tsp. salt
• 1/8 tsp. ground black pepper
• 3 tbsp. honey

Glazed Shallots
• 1 lb. shallots, peeled
• 1 tbsp. unsalted butter
• 1 tbsp. sugar
• 1/4 tsp. salt
• 1-1/2 c. water

Garnish (optional)
• Chopped chives



email recipe
print recipe

Jacques Pépin's Christmas Celebration
Braised Duck with Glazed Shallots and Honey Sweet Potatoes
This succulent braised duck in tangy honey sauce perfectly complements glazed shallots and tender, rich, honey sweet potatoes. It's perfect for an elegant holiday dinner or a comforting fireside supper with close friends.

Preparation

To prep the duck:
Cut each duck into 4 pieces. Reserve necks, backbones, etc., for stock. Trim the extra skin from breasts, legs, and inside duck; cut into 1" pieces for cracklings.

To make the stock:
Place reserved bones, etc., in one layer in a large stockpot with the oil. Brown over high heat for 5 minutes. Reduce heat to medium and brown for 20 minutes. Drain and discard fat. Add onion, carrots and 4 qt. water to stockpot. Stir in celery, garlic, tomato paste, bay leaf, and thyme. Bring to boil over high heat. Reduce heat and boil gently for 3 to 3-1/2 hours. Strain. Should have 4 cups.

To cook the duck and make the cracklings:
In 2 large, nonstick skillets with lids, arrange 8 pieces of duck meat, skin side down, in a single layer, and sprinkle with diced skin and fat. Season with 1/2 tsp. salt and 1/4 tsp. pepper. Brown over med-high heat for 15-18 minutes. Do not turn. Cover pans, reduce heat to low, and cook for 45 minutes. Remove from heat and let rest 10 minutes. Transfer duck pieces to large container. De-bone and add bones to stock. Remove cracklings with slotted spoon and toss with remaining salt and pepper. Serve cracklings on the side. Strain fat over duck pieces. Duck can be made a few days ahead and kept, immersed in the fat, refrigerated.

For the honey sauce:
Skim off fat from stock. Bring stock to boil and reduce over high heat to 2 c. In another saucepan, cook sugar and vinegar until it caramelizes. Add the stock, honey, salt, pepper, and potato starch. Bring to a boil. Set aside.

For the sweet potatoes:
Wash potatoes and cut into 1-1/2" slices. Place slices in saucepan in 1 layer, cover with cold water, and bring to boil. Reduce heat to low, boil gently for 5-6 minutes. Drain water, add butter, salt, pepper, and honey. Sauté for 10-12 minutes until glazed. Set aside.

For the shallots:
Place shallots in single layer in large skillet with butter, sugar, salt, and water. Bring to a boil, reduce heat to low, and boil gently, covered, for 5 minutes. Remove lid and cook until liquid evaporates and shallots begin to caramelize. Roll in juices to coat.

To serve:
Arrange pieces of duck, skin side down, in a nonstick skillet, and cook over high heat for 1 minute. Reduce heat to med., and cook for 12-15 minutes. Place a piece of duck in the center of each of 8 plates, arrange potatoes and shallots around the duck, and coat with warm sauce. Sprinkle on chives and serve.


View Winter Recipes: 1 | 2 | 3 | 4

Recipe courtesy of Alfred A. Knopf, ©2001 Jacques Pépin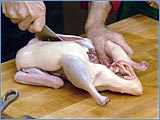 Recipe Slideshow

Cracklings are delicious sprinkled on a salad, but should be eaten the same day they are made.
Technique Slideshows
• cutting up a duck
• chopping an onion


Claudine's Tip:
A great holiday decoration is a pomander orange, an orange studded with whole cloves. It smells wonderful and kids can help make it too!


Jacques Pépin's Christmas Celebration
• Oysters on the Half-Shell with Mignonnette Sauce
• Home-Smoked Salmon with Cucumber Salad
• Fresh Foie Gras with Aspic
• Salt-Cured Foie Gras
• Braised Duck with Glazed Shallots and Honey Sweet Potatoes
• Black Truffle Salad
• Cheese
• Chocolate Yule Log with Mint Leaves and Chocolate Bark
• English Christmas Pudding with Hard Sauce

Wines
• Cambria Pinot Noir Julia's Vineyard '98
• Louis Carillon Puligny-Montrachet '97
• Champagne Dom Pérignon '92

See TV episode description