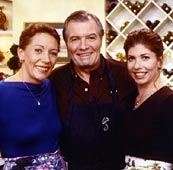 Jacques Pépin Celebrates! consists of 20 half-hour episodes of dinner party menus and technique-based programs (episodes 101-120), as well as six one-hour holiday specials (episodes 201-206). Complete, mouth-watering descriptions of each episode are available here.


Thirteen Half-Hour Shows
• Country Luncheon
• Valentine Surprise
• Feast Fit for a King
• Elegant Country Dinner
• Dinner Party al Fresco
• Happy Anniversary
• Fresh Catch Mélange
• A Festive New Year's Eve
• Cold Snap Comfort
• Labor Day Farewell
• Ski Chalet Supper
• Tribute to Jean-Claude
• Artistic Banquet

Seven Theme Shows
• The Choux Maker
• Puff Pastry Showcase
• A Picnic of Pies
• Bridal Shower Confections
• Tea for Ten
• Brick Oven Bonanza
• Mother's Day Brunch


Six One-Hour Specials
• Thanksgiving Celebration
• Hanukkah Celebration
• Christmas Celebration
• Easter Celebration
• Graduation Buffet
• Summer Celebration


Elegant Country Dinner - episode 101 (half-hour show) back to top
Cuisine bourgeoise—homestyle cooking—meets haute cuisine in this sophisticated French-country dinner. There's hardly a more classic beginning than Onion Soup Gratinée Lyonnaise under a golden, bubbly crust of melted cheese. Pan-Broiled Venison Steaks with a tart Black Currant Sauce make a hearty entrée, and a creamy Chestnut Puree and homemade Cranberry Relish add just the right touch of special-occasion sparkle. In honor of his brother, Jacques prepares his favorite dessert: dense, creamy Cheesecake Roland with Blueberry-Currant Sauce.

Labor Day Farewell - episode 102 (half-hour show) back to top
The Pépins mark the end of summer with a last hurrah Labor Day feast—Jacques' take on a New England shore dinner. For openers, he prepares a family favorite: Poached Eggs in Aspic served with a simple Celeriac-and-Carrot Salad. Then, it's the greatest of all summertime treats, Broiled Lobster, served with Caramelized Corn and crispy, golden Potato Flats. And for the perfect end to this farewell to the fair-season: Summer Cornets Susie—crunchy cookie cones filled with chocolate and summer fruit.

The Choux Maker - episode 103 (theme show) back to top
Jacques' approach to classic French cooking techniques often revolves around the idea of demonstrating a single basic recipe that can open up a world of possibilities. In this episode, he makes pâte à choux—the simple cream puff dough that is the basis for a variety of sweet and savory dishes. It becomes Profiteroles with Pastry Cream in Bittersweet Chocolate Sauce as well as fanciful "Swimming Swans" with Raspberry Sauce in a Caramel Cage—a stunning restaurant-style dessert that's surprisingly easy to make. Jacques' Cream Puff Fritters are wonderful on their own or filled with ice cream. And his version of Paris-Brest Cake is topped with a light dusting of almond praline. On the savory side, there are Parisienne Gnocchi—a wonderful make-ahead first course—and the delicate cheese puff hors d'oeuvre known as Gougère. Potatoes Dauphine turn pâte à choux into fluffy, golden mashed potato puffs.

Tribute to Jean-Claude - episode 104 (half-hour show) back to top
Jacques and Claudine prepare a special dinner for their beloved family friend, featuring all his favorite dishes. Spicy, Louisiana-style "Angry" Trout in a Hot Pecan Sauce with deep-fried Hush Puppies start the meal off on a lively note. Named for the guest of honor, Chicken Jean-Claude is cooked two ways—the thighs roasted with almond stuffing, and the breasts sautéed with shallots—and served with elegant Waffle Potatoes. A light Coffee-Rum Caramel Custard with Lime Tuile Cookies finishes off this festive tribute to old friends.

Artistic Banquet - episode 105 (half-hour show) back to top
Jacques has taught millions of home cooks that the simplest foods taste better when you present them with a sense of art and style. This delightful menu is a feast for the eyes, starting with Stuffed Salmon in Flaky Dough that's equal parts appetizer and sculptural tour de force. Chicken Salad Danny turns succulent poached chicken into a witty little presentation that always brings smiles to the table. And a rich, creamy Praline-Chocolate Paradis, wreathed in delicate chocolate leaves, is like a sweet, still life from heaven.

Tea for Ten (theme show) - episode 106 back to top
If tea for two is cozy, then tea for ten's a party—especially when you serve a menu of sophisticated tea-time treats, like Zimfour petit fours with a cookie dough crust and almond butter topping; or easy-to-make Candied Lime and Orange Peels dipped in white and dark chocolate. Jacques and Claudine take the mystery out of homemade Chocolate Truffles with three fillings: orange, coffee-rum, and cognac-almond. And they also try their hand at two quick puff-pastry confections: flaky Parmesan Cheese Straws and Caramelized Puff Pastry Sticks. There's even a demonstration of the proper English way to make tea.

A Festive New Year's Eve - episode 107 (half-hour show) back to top
It's December 31st chez-Pépin, and Jacques and Claudine are in the mood to break out the bubbly and ring in the new year with a menu that's all about luxury and style. They start with an Oyster-and-Corn Chowder that's rich, elegant, and easy to put together at the last moment, with individual cornbreads served on the side. Jacques' traditional Rib Roast makes a dramatic presentation, especially when paired with fluffy, golden Yorkshire Pudding and Mustard-and-Horseradish Sauce. A festive Salade Tulipe, with pecans, goat cheese, pears, and walnut dressing captures the sweet and savory flavors of the season. And for dessert, Jacques shows Claudine how to dress up homemade French Vanilla Ice Cream by serving it in lacy Tulip Cookie Cups, topped with Spicy Cherries in Wine.

Happy Anniversary - episode 108 (half-hour show) back to top
In honor of her parents' wedding anniversary, Claudine helps Jacques whip up a lavish family dinner, starting with a hearty Black Bean Soup Augier, a tribute to Gloria Pépin's Cuban roots. Then, there's a simple, sophisticated Fillet of Sole Mistral poached with shallots and vermouth. Cream Puff Cases and Cucumber "Footballs" are a festive yet surprisingly simple accompaniment. And a fluffy Chocolate-Espresso Soufflé with an Armagnac Crème Anglaise rounds out this special dinner.

A Picnic of Pies - episode 109 (theme show) back to top
It's a crash course in crusts and fillings as Jacques presents a "pie intensive," starting with a classic Tarte Tatin, the upside-down French apple pie, with a simple pâte brisée crust. Even a beginning baker can make the creamy Custard-Fruit Galette with juicy, perfectly ripe fruit. And Jacques shows us his version of Linzertorte, made with fresh raspberries instead of jam, so it's moister and softer than the traditional version.

Ski Chalet Supper - episode 110 (half-hour show) back to top
It's hard to imagine a better way to warm up after a day in the snow than a cozy French "soul food" supper. For Jacques, that means country-style favorites like a Frisée Salad with Chicken Cracklings and Innards. And Cassoulet, the ultimate one-pot winter warmer-a classic southern French stew of white beans, reinvented with Jacques own Pumpkin Seed Sausage. For dessert, there's an icy Grapefruit Granité, spiked with a splash of vodka.

Cold Snap Comfort - episode 111 (half-hour show) back to top
On a crisp winter afternoon, Jacques and Claudine get inspired to make a comforting, stay-at-home menu—the kind that steams up the kitchen windows and fills the whole house with appetizing aromas. They start with Poached Ray Valerie in Brown Butter—a wonderfully succulent fish that's much loved in France, yet virtually unknown to American home cooks, and remarkably easy to prepare. A succulent Beef Shell Roast Napa in a rich Cabernet Sauvignon sauce comes together in less than an hour. And to accompany it, Jacques creates a Creamy Onion Custard with Tomato Coulis that's as soothing as it is sophisticated. Finally, a simple blackberry sauce transforms winter oranges into a satisfying dessert.

Bridal Shower Confection - episode 112 (theme show) back to top
When Claudine is asked to make desserts for a fancy bridal shower, Jacques has one word for her: meringue. He prepares elegant Almond Floating Islands in a pool of Rum Custard Sauce and buttery caramel. Then it's on to an Orange Vacherin Jeannette—layers of meringue with a frozen orange-cream filling—that's as easy as it is spectacular. Volcano Surprise with Lemon Mousseline Cake is Jacques' whimsical take on Baked Alaska—a little lighter, and a lot more dramatic. And his foolproof Mocha Success Cake is made with a rich buttercream, sandwiched between layers of crunchy hazelnut meringue.

Valentine Surprise - episode 113 (half-hour show) back to top
In honor of Valentine's Day, Jacques helps Claudine concoct a candlelight dinner for two, starting with individual Soufflés of Mussels and Basil. Tender Châteaubriands with Madeira-Truffle Sauce make a rich and indulgent choice for lovers—and lovers of beef—especially when they're paired with sophisticated Mushroom Timbales and Crêpe Shells with Corn Puree. Homemade Raspberry Sherbet with Raspberry Sauce, containing more raspberries hidden inside, is like an edible love note.

Country Luncheon - episode 114 (half-hour show) back to top
Jacques and Claudine revive a classic country tradition: the relaxed, sit-down, midday luncheon. For starters, there's a classic Parsleyed Ham, served with a tangy Rémoulade Sauce. Linguine with Clam Sauce is an ideal choice for entertaining, and Jacques dresses it up with a rainbow of colorful spring vegetables. And for dessert, Plums Poached in Cabernet Sauvignon and homemade Plum Sherbet are served over a surprisingly easy Cinnamon-Lemon Cake.

Brick Oven Bonanza - episode 115 (theme show) back to top
It's step-by-step introduction to the fine art of bread baking as Jacques makes a classic Country French Bread that can be shaped either as baguettes or as a crusty round loaf. He and Claudine then fill the loaf with a mélange of shrimp, scallops, salmon, and mushrooms to create Seafood Bread. For contrast, they bake dark, dense Black Pepper Bread with Walnuts and comforting Whole-Wheat Bread with Raisins. There's also Cheese Bread enlivened with sweet bits of dried pear, and light, golden Brioche Mousseline. And because even a master baker cannot live by bread alone, Jacques rounds out the menu with an easy, soulful Farmer's-Style Soup.

Dinner Party al Fresco - episode 116 (half-hour show) back to top
Jacques and Claudine create their midsummer night's dream dinner al fresco starting with crispy Deep-Fried Soft-Shell Clams and Zucchini, served with a savory anchovy dipping sauce. The main attraction is a Rabbit Blanquette, a homey stew with pearl onions, mushrooms, and cream, with golden sweet Corn Fritters served on the side to sop up the sauce. Fruit Salad Ambrosia gets a smashing presentation when Jacques serves it in a carved melon swan

Mother's Day Brunch - episode 117 (theme show) back to top
In honor of Mother's Day, Jacques shows Claudine how to turn the mother of all foods, the egg, into eight imaginative brunch entrées. First, there's a Gratin of Eggs made with hard-cooked eggs and sautéed mushrooms with a creamy onion Soubise Sauce on top. Then, it's on to Poached Eggs Clamart, served on a buttered crouton with fresh peas and hollandaise, and Mollet Eggs with Stewed Asparagus. Next, Jacques finishes easy Molded Eggs two ways—with truffles and carrots, and with herbs and radishes. Two omelets give Jacques a chance to show Claudine how to crack one of the great French cooking techniques: a classic Fines-Herbes Omelet and an "open-faced" Farmer-Style Flat Omelet. Finally, Deep Fried Eggs with Peppers and Eggplant round out this brunch with a splash of provençale color.

Fresh Catch Mélange - episode 118 (half-hour show) back to top
Jacques and Claudine conjure up happy memories of family vacations at the beach with a fresh, informal seafood supper. Inspired by the catch of the day, they start with moist, delicate Steamed Scrod Norma in an easy lemon dressing. Then, Jacques recreates a classic Bouillabaisse, Long Island-style, brimming with fresh local fish, mussels, and shrimp, with a lusty, garlicky rouille sauce to ladle on top. Apricot Savarin with Fruit, a delicate liqueur-soaked cake, finishes the feast on a light and colorful note.

Puff Pastry Showcase - episode 119 (theme show) back to top
Most home cooks think of puff pastry as the province of professional chefs and bakers, but Jacques is on a mission to demystify flaky pastry once and for all. He shows Claudine how a single basic puff pastry dough can be turned into everything from hors d'oeuvres to desserts. After creating an elegant first course of Oysters and Asparagus in Puff Pastry Shells, Jacques prepares a fancy main-dish Vol-au-Vent filled with Spicy Chicken and mushrooms. Turning to the sweet side, Jacques and Claudine make a spectacular Strawberry Napoléon—the French answer to strawberry shortcake—as well as two super-easy pastries: a Black Raspberry Jam Dartois Tart and a Flaky Raspberry Strip.

Feast Fit for a King - episode 120 (half-hour show) back to top
Jacques was a chef to three French heads of state, and in this episode, he creates a menu worthy of the haute cuisine of the Palais Royale. It begins with elegant Fillet of Sole with Herb Stuffing and a bright, creamy Puree of Peas presented in a sweet pepper cup. Succulent Grilled Leg of Lamb Robert, marinated with garlic, ginger and honey, is paired with a Puree of Spinach, served in the French country style with croutons and eggs. And an elegant Orange Soufflé reveals a spectacular surprise: a hidden treasure of homemade Orange Sherbet.

Jacques Pépin's Thanksgiving Celebration - episode 201 (one-hour special) back to top
Jacques is fond of saying that Thanksgiving is his favorite holiday—after all, it's the one holiday devoted entirely to cooking and eating. In this special one-hour tribute to turkey with all the trimmings, we get a peek at how one of the world's greatest French chefs prepares Thanksgiving dinner in his American home. It begins with two appetizers made from Jacques' "Instant" Home-Cured Salmon: Salmon Tartare with a delicate cucumber salad and salmon caviar; and velvety Salmon Gravlax cured with cognac, served with cucumber, sweet onion, and rye bread. Then, it's on to the main event: a plump, juicy Roasted Turkey with apple cider glaze and buttery Bread-and-Mushroom Stuffing. On the sideboard, there are Jacques' "must-taste" Brussels Sprouts and a creamy, bubbly, decadent Gratin of Butternut Squash. As an alternative to traditional cranberry sauce, Claudine helps Jacques prepare a spicy Cherry-Ginger Chutney. Two sensational autumn desserts complete the feast: a moist, rich, Chocolate-Bourbon-Prune Cake with Caramelized Pecans and whipped cream; and Pears Poached in Citrus Juice with a simple, country style "home cake."

Jacques Pépin's Hanukkah Celebration - episode 202 (one-hour special) back to top
In this special episode, Jacques and Claudine celebrate the Jewish "Festival of Lights" with a light, French-inspired Hanukkah dinner menu. It begins with a sparkling Consommé Printanier with a colorful sprinkling of carrot, turnip, zucchini, and miniature Chicken Quenelles. Then it's a silky Cold Mousse of Chicken and Pistachios with a beautiful garnish set in aspic. A soulful Veal Roast with buttery braised lettuce is the hearty centerpiece of the meal. And Jacques serves it with crispy, golden Vegetable Pancakes Tempura—his homage to the traditional Hanukkah potato latke. For dessert, there's a spectacular Frozen Citrus Soufflé surrounded by a crown of freshly-baked lady fingers served alongside a classic rum-soaked Holiday Fruit Cake, brimming with Jacques' own homemade candied fruit.

Jacques Pépin's Christmas Celebration - episode 203 (one-hour special) back to top
Jacques and Claudine prepare the Christmas feast of their dreams, starting with Oysters on the Half-Shell served over rice with a tangy Mignonette Sauce. It's a perfect counterpoint to silky Home-Smoked Salmon, served in delicate bundles filled with Cucumber Salad. It wouldn't be a Pépin Christmas without foie gras, and Jacques prepares both a classic baked terrine of Foie Gras in a delicate Cognac Aspic as well as a sensationally simple Salt-Cured Foie Gras served with roasted nuts, crunchy sea salt, and sweet preserves. The centerpiece is Braised Duck with a tangy honey sauce, Glazed Shallots, and Honey Sweet Potatoes. And a Black Truffle Salad with lemon dressing is an understatedly elegant addition. For dessert, it's back to the classics, as Jacques gives Claudine a step-by-step lesson in creating a spectacular Bûche de Noël-a beautiful Yule log with all its enchanting decorations-as well as a classic English Christmas Pudding with raisins, nuts, candied fruit, and old-fashioned Hard Sauce.

Jacques Pépin's Easter Celebration - episode 204 (one-hour special) back to top
In this surprise-filled celebration of Spring, Jacques and Claudine prepare a sumptuous Easter dinner for friends, starting with Caviar served with Buckwheat Blini and Frozen Vodka—the perfect adult answer to Easter eggs. Salmon Steaks with a tangy, fresh Sorrel Sauce and delicate little cucumber balls make an easy first course. And of course, there's lamb—in this case, spring Lamb Loins in Ambush, coated with a ground lamb and vegetable mousse, served over fresh fava beans. Jacques' Leek-and-Mushroom Pie brings just the right earthy flavors to go with the lamb. And on the side, there are Eggplant "Cushions" garnished with lightly stewed tomatoes; and Artichoke Bottoms stuffed with brown-butter spinach, topped with a golden-brown gratin sauce. The meal ends as it began, with more grown-up Easter eggs: fluffy Caramel Snow Eggs floating in custard cream. In a classic Pépin pairing, this ethereal dessert is served with Jacques down-to-earth, old-fashioned Oatmeal Cookies dipped in sumptuous chocolate.

Jacques Pépin's Graduation Celebration - episode 205 (one-hour special) back to top
A family friend is graduating from college, and Jacques and Claudine need no better excuse to create a splendid al fresco buffet lunch. There's delicate Smoked Trout with a creamy Egg-and-Pepper Salad—just right for a sunny June afternoon. And Jacques' classic Chicken Galantine—a boneless chicken stuffed with pork, black mushrooms, pistachios and armagnac, poached in a rich stock and served in it's own aspic—might be the world's most elegant picnic food. A succulent baked Ham Georgia with a tangy apricot-mustard glaze and a deep, sweet-savory peach sauce is an impressive do-ahead entrée for a party. Jacques pairs it with a simple side dish of buttered Red Swiss Chard. For the cheese course, he shows Claudine how to make creamy fresh-herb Fromage Blanc served with roasted garlic and garnished with a beautiful coral tree. Two show-stopping desserts complete the buffet. Chocolate Cloud Cake is a spectacular layered confection, with the contrasting textures of fluffy sponge cake, cognac whipped cream, and crunchy chocolate cookie crust, all topped with a bittersweet chocolate glaze. And Cherry-Raspberry Pillow tops off the summer fruit desserts—fresh cherries and berries baked in a free-from puff-pastry pie.

Jacques Pépin's Summer Celebration - episode 206 (one-hour special) back to top
It's a special one-hour tribute to two great cultures and two great cuisines, as Jacques and Claudine create a French-American "fusion" celebration of the Independence Day and Bastille Day. A whole, poached Salmon with a light, creamy Mousseline Sauce is an easy, elegant way to feed a large group. It's followed by charming little crocks filled with Rillettes of Rabbit—the classic French party spread that's perfect with country bread and a crisp white wine. For the main course: a whole Grilled Shoulder of Veal, served with lemon-herb butter. And Jacques' creamy Potato-and-Corn Packages are just right for the occasion. For dessert, there's an all-American sponge cake soaked in sweet summer berries and brandy with a silky custard sauce and a very French Chocolate Gourmand—a decadent chocolate mousse you can serve right out of the bowl.