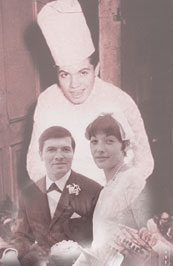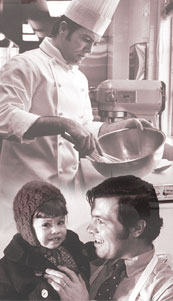 Jacques Pépin, Co-Host
A world-renowned chef, author, instructor, and the host of popular cooking programs on public television, Jacques Pépin began his culinary career in his parents' restaurant, Le Pelican, in France. He received formal training at the Grand Hotel de l'Europe, and Paris restaurants Meurice and Plaza-Athenee, and served as personal chef to French heads of state Felix Gaillard, Pierre Pfimlin, and Charles de Gaulle.

Jacques is the author of the acclaimed La Technique and La Methode, two books that present the principles of culinary technique and artistry and earned him a place in the James Beard Foundation's Cookbook Hall of Fame, an honor bestowed each year on an author whose contributions to food literature have had a substantial and enduring impact on the American kitchen.

Jacques and KQED received James Beard awards—the food industry's highest recognition—for Today's Gourmet (Outstanding Culinary Video, 1994), Jacques Pépin's Kitchen: Cooking with Claudine (Best National Cooking Segment, 1997), and Jacques Pépin's Kitchen: Encore with Claudine (Best National Television Cooking Show, 1999).

Jacques currently serves as dean of special programs at the French Culinary Institute and as an adjunct faculty member at Boston University. He is a restaurant consultant, a contributing editor for Food & Wine Magazine, founder of the American Institute of Wine and Food, a trustee of The James Beard Foundation, and a member of the International Association of Culinary Professionals. Pépin lives with his wife Gloria in Madison, Connecticut.

Read a conversation with Jacques | View his cooking links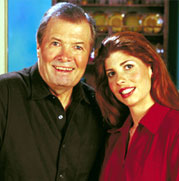 With an undergraduate degree in political science and philosophy, and a Master's degree in international relations from Boston University, Claudine has co-hosted three public television cooking series with her father, Jacques Pépin, including Jacques Pépin Celebrates!

She is currently working with Food Network Live appearing nationally, as well as serving as the "Prestige Ambassador" for Moet & Chandon and Dom Perignon Champagne in New York. Claudine has also taught food and wine pairing for both the French Culinary Institute and the Sommelier Society in New York.