A Conversation with Jacques Pépin
Recently, Jacques Pépin sat down with KQED, and offered advice and insight on his passion for food and cooking.

What do you still find invigorating about cooking? There are always new things to be learned. Strangely, after all of these years, I still find new ways to cook a chicken! And I'm always hungry—I was born hungry.

Do you enjoy culinary instruction as much as cooking alone? Yes, certainly. Food by definition is about sharing. The sharing of knowledge is like the sharing of food. I get a great deal of gratification by passing my knowledge of food on to others.

What are some of your favorite cities in the world for food? I would say my favorite places are New York City, San Francisco, Florence, and Madrid. And in France: Paris, St-Remy de Provence, and Lyon.

What are some simple, good tips you've learned over the years? First of all, it's very important to make the meal simple. As I get older, I think my cooking gets simpler and simpler. Going to the market for fresh ingredients is essential.

How did you first entice Claudine into the world of food? Claudine was born into food, so it wasn't really an enticement. She felt very comfortable the first time we went on television. It was a natural progression because she felt at ease with me and with food.

What is your favorite type of food to make (desserts, main courses, etc.)? I like to do all of it. It depends on my mood and the season. In the summer, I like raspberries, and during the winter, I really enjoy soup. It's a question of mood and season.

Are there any rising young chefs that you keep a particular eye out for? There are many, many chefs out there who are making their mark on the food world. Three that come to mind are Ken Oringer, who runs Clio in Boston; Rocco DiSpirito, who runs Union Pacific in New York City; and Todd English, owner of many restaurants.

What are the quickest and the longest meals you've prepared? Well, I just had a sandwich for my lunch, so that is pretty quick! But my longest meal may have been at my wedding; it lasted two days. My chef friends threw me out of the kitchen an hour before I got married.

What are your favorite holidays and celebrations? I love Thanksgiving because it's really all about food; there is no particular religious significance and no gifts are involved. It's just sharing food, wine, and friendship—so it's my favorite. It's a purely American and Canadian holiday.

What basic tools should every cook have in his or her kitchen? A good pot, a good knife, a good cutting board, and, especially, a good pair of hands.

Why do you always let meat "rest?" The resting of the meat tenderizes it. In red meat, like roast beef or leg of lamb, the juices flow back through the meat, so it is uniformly pink from the first slice to the last. Resting is essential for the best result.

Do you have a favorite meal at home? An omelet or just-picked tomatoes with fresh herbs from the garden. I like lobster and corn in the summer, chicken and potatoes in the winter. My favorites are all according to the season.

Has your wife taught you anything about cooking? Yes, certainly, diversity more than anything else! Her mother is Puerto Rican, her father is Cuban, and she was born in New York City. She has taught me to be open-minded about food.

What are the steps you take in creating and developing a recipe? Well, first comes the idea. Perhaps going to a restaurant or a friend's home for dinner inspired it. Second, you go to the market and select fresh ingredients. Finally, you start cooking. At this point, the recipe will happen according to your whims and mood of the day.

How do you feel about family and culture as it regards being together at the table? It's absolutely vital. Cooking and food create a special togetherness. Family and food are essential to a good life.

Your producer wants to know where you get all of your energy? Well, I get it from the excitement and joy of the whole production team, and the love that I have for cooking.

You grew up in France during the war, when times were tough, then went on to some of the finest kitchens in France. How have you brought your roots into play in your cooking?
I am very thrifty—probably to the point of being miserly. Leftovers are transformed into new dishes ad infinitum. It's part of the upbringing that I had.

Back to Jacques' biography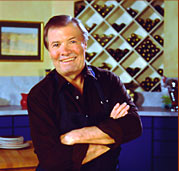 The French Culinary Institute
One of the most distinguished culinary schools in the U.S., and where Jacques serves as dean of students.

Alfred A. Knopf Publishing
A leading culinary publisher, and publisher of his new book Jacques Pepin Celebrates!.

Workman Publishing Co.
Publisher of Jacques' highly acclaimed La Technique Complete.

Bay Books | SOMA
Publishers of fine, illustrated books on food and more, including Jacques' dessert book Sweet Simplicity.

Epicurious.com
An award-winning website for people with a passion for food; contains recipes, advice, restaurant reviews, and features.

The James Beard Foundation
One of the leading culinary organizations in the world; known for it's prestigious awards, educational opportunities, extensive resources, and culinary events.

Int'l Assoc. of Culinary Professionals (IACP)
A nonprofit, professional association for culinary professionals, which provides education, resources, career development, and support.

Boston University
Offers seminars and programs in the culinary arts; Jacques serves as an adjunct faculty member at B.U.

Food & Wine Magazine
The online counterpart to the renowned magazine, offering recipes, articles, slideshows, and more.

America's Second Harvest
"The nation's largest hunger-relief organization, with a network of more than 200 food banks and food-rescue programs."

The Hunger Site
Through the use of site sponsors and visitors who click a "give free food" button, this site distributes food worldwide in an effort to eradicate hunger.

allfood.com
This site offers a variety of broadband cooking shows including a series featuring Jacques Pépin.