Ingredients
Yield: 1 cheese, 6-8 servings

Fromage Blanc
• 1-8 oz. package cream cheese
• 8 oz. ricotta cheese
• 1 clove garlic, peeled, crushed, and chopped fine into a puree
• 3 tbsp. finely chopped herbs (mixture of parsley, chives, tarragon, and chervil)
• 1/2 tsp. ground black pepper
• 1/2 tsp. salt
• 3/4 c. heavy cream

Crouton Sticks
• 1 narrow baguette, cut horizontally into 3 chunks, 6" long
• 2 tbsp. corn or canola oil

Roasted Garlic
• 3 lg., firm, young garlic heads
• Dash salt
• 1 tbsp. unsalted butter
• 1/2 tbsp. olive oil

Fennel Garnish
• 1 sm. fennel bulb
• 1/4 tsp. unsalted butter
• 1 tbsp. lemon juice

Double-Cream Sauce
• 1/2 c. heavy cream
• 1 c. sour cream
• 1/4 tsp. salt
• 1/4 tsp. ground black pepper

• Coral tree garnish




email recipe
print recipe

Jacques Pépin's Graduation Celebration
Fromage Blanc Jean-Victor with Roasted Garlic
This mild, creamy French cheese melds beautifully with roasted garlic and shaved fennel. Simple and charming, it can also be served as a classic coeur à la crème with fresh berries.

Preparation

For the fromage blanc:
Using a food mill fitted with the fine screen, strain both cheeses into a bowl.

Add the garlic, herbs, black pepper, and salt, and fold gently with a spatula. Whip the cream lightly, until it just holds a peak, and fold into the cheese mixture.

Cut a 12" square of single-layer cheesecloth, and line a mixing bowl with it. Scoop the cheese into the bowl. Bring the corners of the cheesecloth together, and tie them to make a round ball of cheese. Thread a wooden dowel through the knotted corners, and hang the cheese over a pot or pitcher to drain. Refrigerate overnight.

For the crouton sticks:
Preheat the oven to 400°. Cut the baguette chunks into fourths. Spread oil on a jelly-roll pan. Press the bread onto the pan to lightly oil on both sides. Bake for 8-20 minutes until browned.

For the roasted garlic:
Remove the excess skin from the garlic heads, keeping intact, and discard damaged cloves. Place heads in a saucepan, and add water to cover. Cover, and simmer gently for 10 minutes. Drain and cool. Cut off top third of each garlic head. Sprinkle the cut side with a dash of salt.

Heat the butter and oil in a skillet. Place the garlic, cut side down, in the skillet, cover, and cook over low heat for 10 minutes. Turn the heads over and cook another 5-8 minutes, covered. Set aside.

For the fennel garnish:
Shave the fennel bulb thinly (1/16" thick) and reserve the top of the bulb for decoration. Toss the fennel shavings in a bowl with the salt and lemon juice, and set aside.

To make the double-cream sauce:
Mix the heavy cream and sour cream with salt and pepper.

To serve:
Arrange the shaved fennel on a platter. Spread the double-cream sauce over the fennel, and unmold the cheese on top of the sauce. Arrange the garlic heads in the sauce surrounding the cheese, and garnish with croutons. A striking accompaniment to this dish is the coral tree, made of scallions and carrot "flowers."


View Summer Recipes: 1 | 2 | 3

Recipe courtesy of Alfred A. Knopf, ©2001 Jacques Pépin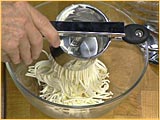 Recipe Slideshow

It is good to make fromage blanc a few days ahead, so the taste develops and the cheese gets firmer.

Technique Slideshow
• making a coral "tree"


Jacques' Tip:
If you want to make a traditional coeur à la crème (sweet cheese) omit the garlic, herbs, salt, and pepper and add 3 tbsp. sugar and garnish with berries.


Jacques Pépin's Graduation Celebration
• Smoked Trout with Egg-and-Pepper Salad
• Chicken Galantine
• Ham Georgia with Peach Garnish
• Red Swiss Chard
• Fromage Blanc Jean-Victor with Roasted Garlic and Coral "Tree"
• Chocolate Cloud Cake
• Cherry-Raspberry "Pillow"

Wines
• Château d' Aqueria Tavel '99
• Bollinger Brut Special Cuvée
• Tapiz Malbec '98

See TV episode description