Media Resources
Books
If you are interested in buying any of the books listed below, you can support KQED by clicking on the Amazon link, which will take you to that book on Amazon.com. A portion of the profit will go to KQED.
Am I Blue? Coming Out from the Silence
Bauer, Marion Dane, ed. HarperCollins, New York, 1994.
Sixteen short stories for young adults.
Buy on Amazon.com.
And the Band Played On: Politics, People and the AIDS Epidemic
Shilts, Randy. St. Martin's Press, New York, 1987.
In 1982, Shilts was the only newspaper reporter in America on a full-time AIDS beat. His award-winning coverage for the San Francisco Chronicle resulted in this book. Shilts died of AIDS in 1994 at age 42.
Buy on Amazon.com.
Athletic Shorts
Crutcher, Chris. William Morrow, New York, 1991.
Stories about athletic boys facing challenges in their lives.
Buy on Amazon.com.
Different Daughters
Rafkin, Louise, ed. Cleis Press, San Francisco, 1987.
Interviews with 25 mothers about their changing relationships with their lesbian daughters.
Buy on Amazon.com.
Different Mothers
Rafkin, Louise, ed. Cleis Press, San Francisco, 1990.
Short stories by children about growing up with lesbian mothers.
Buy on Amazon.com.
Fried Green Tomatoes at the Whistle Stop Cafe
Flagg, Fannie. McGraw-Hill, New York, 1987.
Endearing story of two young women in the 1930s who ran a cafe in rural Alabama. Their friendship -- displaying devotion and courage -- defied all obstacles.
Buy on Amazon.com.
Is It a Choice?
Marcus, Eric. Harper & Row, Publishers, San Francisco, 1993.
Answers to 300 of the most frequently asked questions about gays and lesbians.
Buy on Amazon.com.
Jack
Homes, A.M. Vintage Books, New York, 1989.
A novel about how a young man learns to accept his father's homosexuality.
Buy on Amazon.com.
Out In All Directions: The Almanac Of Gay And Lesbian America
Witt, Lynn; Thomas, Sherry; and Marcus, Eric. Warner Books, New York, 1995.
Covers more than 175 topics about American gays and lesbians.
Buy on Amazon.com.
Profiles in Gay & Lesbian Courage
Perry, Rev. Troy and Swicegood, Thomas. St. Martin's Press, New York, 1991.
A series of biographies discussing contemporary heroic lesbians and gay men.
Buy on Amazon.com.
Rubyfruit Jungle
Brown, Rita Mae. Bantam Books, New York, 1973.
A novel about a proud, impish, gutsy young girl growing up gay and loving it, written by one of the founding mothers of both the gay and the women's movements.
Buy on Amazon.com.
Tales of the City
Maupin, Armistead. Harper & Row, Publishers, New York, 1978.
Originally published as a series of fictional columns in the San Francisco Chronicle, Tales evokes the innocence and freedom of the 1970s through a wacky cast of characters in their exploration of sexuality, pursuit of success and search for happiness.
Buy on Amazon.com.
The Well of Loneliness
Hall, Radclyffe. Pocket Books, New York, 1928.
When it first appeared, this moving novel outraged two continents with its poignant accounts of homosexual love. Praised for its artistry and honesty, The Well stands today as the unrivaled classic of its kind.
Buy on Amazon.com.
Who Framed Lorenzo Garcia?
Hamilton, R.J. Alycat, Boston, 1995.
First in a series of mysteries called "The Pride Pack," this suspenseful story is also an authentic look at the problems of gay teens.
Buy on Amazon.com.
Movies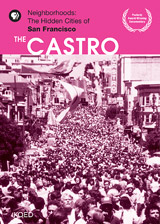 Neighborhoods: The Castro
Now available on DVD.
Buy on Channel9Store.com.
Gay Youth
BANGLE (Bay Area Network of Gay and Lesbian Educators) c/o Wolfe Video
PO 64, New Almaden, CA 95042
408-268-6782

It's Elementary: Talking About Gay Issues in School
Women's Educational Media
2180 Bryant Street, Suite 203, San Francisco, CA 94110
415-641-4616
Best Documentary at the 1996 SF International Lesbian and Gay Film Festival.
Names Can Really Hurt Us
Anti Defamation League, 823 United Nations Plaza, New York, 10017
212-885-7766
Teenagers talk about their painful experiences as victims of bigotry and also reveal their own prejudices and stereotypes.
Not in Our Town
California Working Group, 5867 Ocean View Drive, Oakland, CA 9461
wedothework@igc.apc.org
510-547-8484
About events in Billings, Montana in which the entire community responded to neo-Nazi attacks on Jews, Native Americans, African Americans and gays and lesbians.

A Safe Place for Questions
Support Services for Gay, Lesbian and Bisexual Youth, School Health Programs Dept.
San Francisco Unified School District
1512 Golden Gate Avenue, San Francisco, CA 94115
415-749-3400
Video and resource guide for educators who are interested in creating a safe school environment for sexual minority youth.