Resource Guide
Introduction
Neighborhoods: The Hidden Cities of San Francisco
Neighborhoods: The Hidden Cities Of San Francisco is a television series designed to explore the rich history of this unique American city. From the earliest Native American villages of the Mission District to the ethnic neighborhood of Chinatown to the Castro, once a quiet enclave of European immigrants known as Eureka Valley, each program reveals the city as a mosaic of communities with interconnecting pasts. Each episode covers the social, political, economic and cultural movements that created this city. As we continue to grow in our appreciation of diverse cultures, Neighborhoods gives viewers a crucial sense of the traditions and diversities that link us, not only to the past but to one another.
Educational Uses of The Castro
The Castro, the third program in KQED's Neighborhoods series, presents a variety of learning opportunities for secondary teachers, counselors and students. The thoughtful profiles in The Castro provide a colorful journey through the history of a unique neighborhood. What happened in the Castro in its transition from a neighborhood of Scandinavians, Irish and Italians is the story of the coming of age of a social movement that helped establish alternative lifestyles of today.
Educators are encouraged to preview the program in its entirety with a group of colleagues, and to keep in mind the different sections that would fit in the school and class curriculum. Follow up with a post-viewing discussion providing opportunities to react to the program, segments, opinions and questions. How does this fit in to the studies of neighborhoods, economics, political and civil rights, health/guidance, diversity of families and lifestyles in your classroom? Have the group design an overall plan on how the selected clips align with the curriculum at each grade level or subject area. This process enables the group to thoughtfully teach and enlighten students on some possibly sensitive topics.
To help educators/counselors explore the program information, this resource guide provides lessons and ideas for secondary schools. The program may be recorded off-air with one-year retention rights for educational use in schools located in the KQED broadcast area.
What Is a Neighborhood?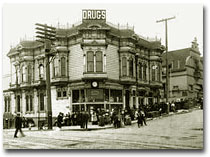 Wulzen's Pharmacy,
Castro and Market, circa 1902
- D.H. Wulzen
Defining just exactly what constitutes a neighborhood is not an easy task. It can be a geographic area recognized by boundaries like a street, freeway or railroad tracks. It can be distinguished by a physical feature, like Twin Peaks in the case of Eureka Valley. It can be defined by a certain type of housing or architecture that is different enough from the surrounding housing types to stand out clearly. A neighborhood can also be defined socially -- by political groups, religious affiliations or ethnic similarities. In addition, a neighborhood may be defined by economic groupings. Nontraditional communities have more recently emerged as neighborhoods. This includes nonconformist groups such as the counter-culture, feminists, homosexuals, political radicals, student and artistic movements that have attained the requisite sense of solidarity, social cohesion and structure. These communities offer what is inherent in "neighborhood": security, services and group identity. The nonconformity does not derive from family traditions -- the association is voluntary. The neighborhood residences, businesses and social gathering spots provide refuge and allow its residents to maintain and reinforce group identities.
Many neighborhoods follow a similar evolutionary process: neighborhood inception and growth, neighborhood decay, neighborhood transformation by invasion of a new minority group, abandonment by earlier inhabitants, neighborhood revitalization.
The Castro Production Staff

Executive Producer:
Peter L. Stein
Producer, Writer & Director:
Peter L. Stein
Associate Producer:
David Condon
Editor:
Dawn Logsdon
Additional Editing:
Laurie Schmidt

The Castro Resource Guide Staff

Project Director:
Marilynn S. Fong
Writer:
Anne B. Williams
Editor:
Monica Levin
Designer:
Margaret McCall
Map Design:
Carto Graphics
WWW Design:
Brian Underwood
Bill Elias
SPECIAL THANKS FOR CURRICULUM ADVISORY TO:
Samantha Davidson, Simone Dorman, Kathy Gill, Kevin Gogin, Judith Goodwin
FUNDING FOR THE CASTRO RESOURCE GUIDE AND EDUCATIONAL OUTREACH HAS BEEN PROVIDED BY:
The Morris Stulsaft Foundation
Walter and Elise Haas Fund
Chevron
Lucius and Eva Eastman Fund