Jacques Pépin, one of the world's most renowned chefs, returns to public television with The Complete Pépin, a new twist on his 1997 hit series, Jacques Pépin's Cooking Techniques. These thirteen half-hour episodes include his time-tested, classic teachings with brand new opens and closes from the culinary legend.
To paraphrase Jacques Pépin, once you acquire essential cooking skills, your culinary repertoire is limited only by your imagination. Throughout the series, you will learn the basics of everything from choosing and maintaining essential cooking equipment, to easy and fun ways to embellish your dishes. Both the novice and professional are sure to appreciate the solid lessons of the series, as well as the boundless passion and enthusiasm of the charismatic Jacques Pépin.
Begins airing on PBS stations nationwide September 1, 2007 (check local listings).
Recipes from "The Complete Pépin"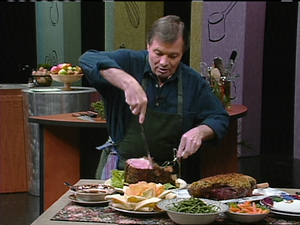 Download and Print:
49 Jacques Pépin Recipes (pdf file)
Here is a sample recipe!
SPICY BEEF SHELL ROAST
Ingredients:
1 beef shell roast (also called New York strip), about 1-1/2 pounds untrimmed
1 teaspoon dried thyme
1 teaspoon dried oregano
1 teaspoon dried rosemary
1/4 teaspoon freshly ground black pepper
1/4 teaspoon cayenne pepper
1/4 teaspoon salt
1 tablespoon virgin olive oil
1/4 cup homemade unsalted and defatted chicken stock, or lower-salt canned chicken broth
Preparation:
Preheat the oven to 450 degrees.
Remove all surface fat from the roast. The trimmed roast should weigh 1-1/4 pounds and be 1-3/4 inches thick.
Crush the dried herbs between your thumb and finger, and mix them with the black and cayenne peppers. Pat the mixture on both sides of the meat.
When ready to cook, sprinkle the roast with the salt. Heat the oil in a heavy oven-proof skillet or saucepan. When hot, add the meat, and cook over medium to high heat for 3 minutes on each side.
Transfer the roast to the 450-degree oven, and cook for 8 to 10 minutes for medium rare. Add the chicken stock, and let rest 10 minutes before carving. Serve with the natural meat-cooking juices.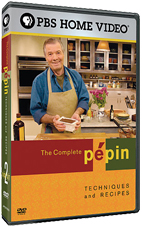 A complete DVD of the series is available from shopPBS.org.
Or call: 1-800-752-9727
Price: $29.99
JACQUES PÉPIN PROGRAMS

Fast Food My Way

Jacques Pépin Celebrates!

The Apprentice

Check, Please! Bay Area:
Jacques Pépin Special